Welcome back, if you have not already, you may want to follow us on Facebook or Instagram to keep up on the latest posts. Please note, this post may contain affiliate links or product reviews for which we may receive compensation. For more details, please see our disclosure . Thanks for visiting!
We are back with one of our favorite crafting materials today: paper plates. We turned paper plates into a winter hat craft.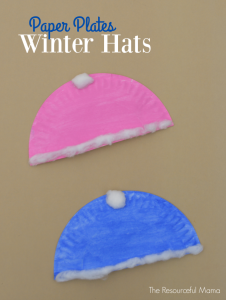 I was beginning to wonder if we were going to have winter where we live this year. We were still jumping into leaves a couple of weeks ago (not that I am complaining). The temperatures are starting to drop a little, but still no sign of snow (again not complaining).
Paper plates are a great crafting material. They are versatile and cheap. Add in a little paint and another very cheap crafting item, cotton balls, and you have very easy, fun, and inexpensive craft.
Supplies:
Paper plates
Paint (any color)
Cotton balls (2 balls per hat)
Glue stick
Directions:
The directions are very simple making this a great craft for young kids.
Cut paper plates in 1/2. Each 1/2 makes one hat.
Paint paper plate 1/2 and allow to dry.
Glue a cotton to the top of the hat (curved side).
Add glue to the bottom straight edge of the paper plate 1/2. Stretch a cotton ball to fit along the bottom of the plate sticking to the glue.
Other winter crafts and activities your kids may enjoy: