It's been awhile since we have done a toilet paper roll craft. With Valentine's Day coming up we decided it was time to change that and made a "Bee Mine" Valentine Day Craft using a recycled toilet paper roll.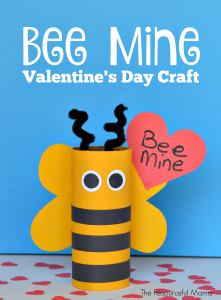 I love reuseing toilet paper ad paper towel rolls in crafts, because they are free. I've got everyone in the house trained to keep for crafts. We have a storage container with our craft supplies just for paper rolls.
This post contains affiliate links. See my Disclosure Policy for details.
Supplies
Recycled toilet paper roll
Yellow paint
Black piper cleaner
Yellow, black, white, & red card stock or construction paper
Scissors
Glue
Tape
Black marker
Directions
1. Paint the toilet paper roll yellow and allow to dry.
2. Cut 3 long stripes of black paper and wrap around the toilet paper roll to make stripes.
3. For the eyes cut out 2 white circles and 2 smaller black circles. Glue the white circles onto the toilet paper roll and then the black on top of the white.
4. Cut the pipe cleaner into 2 pieces about 3 inches each. Twist the pipe cleaners and tape to the inside of the toilet paper for the antennae.
5. Cut 2 small hearts from the yellow paper and glue onto the back of the toilet paper roll to make wings.
6. Cut a small heart from the red paper. Using a black marker write "Bee Mine" on the heart and glue it to the top of one wing.
Ideas for Learning & Development
Colors: Review the colors used for this project: black, yellow, white, and red.
Math: Count how many strips the bee has, how many eyes, and how many antennae.
Shapes: The bee has heart wings and a heart with "Bee Mine". The toilet paper roll is a cylinder. The eyes are circles.
Recycling: Reuse what you already have.
YOU ALSO MIGHT LIKE