Earth day is right around the corner. It's a great day filled with lots of events and publicity. This paper plate Earth Day Craft is a very simplified way to teach kids about the planet.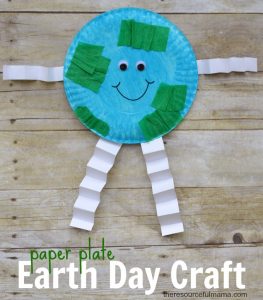 Young kids have a hard time understanding how our world all fits together.
Our kindergartner is obsessed with reading right now and reads everything in sight. He's like a sponge, soaking everything up.
A few weeks ago he was looking at the calendar and read that it was mother's day. He started to worry that he had missed Mother's day and not made me anything. Turns out it was Mother's Day in the UK. He was confused by UK and asked where that is? I told him that it is another country far away. He said, "in heaven?".
We went back to his bedroom, looked at the globe he got for Christmas, and explored the planet Earth.
With this Earth day craft we are keeping things simple. Talk about how the Earth is round (like the paper plate) and made up of water (blue paint) and land (crepe paper).
---
This post contains affiliate links. See my Disclosure Policy for details.
Supplies:
Cost: Under $5
Paper plate
Blue paint
Green crepe paper (tissue paper or construction paper will work as well)
White card stock
Black marker
Scissors
Glue
Directions:
Age: Preschool and up
1. Paint paper plate blue.
2. Cut pieces of crepe paper and glue to paper plate. Remind the kids that Earth is made up of more water than land.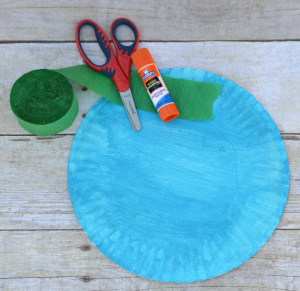 3. Glue googly eyes to the plate and draw a mouth and any other facial features your child may want with a marker.
4. Cute 4 strips of white paper. I cut 2 longer and wider for the legs. Accordion fold the strips of paper and glue or tape to the back of the paper plate so that your earth has arms and legs.
---
Extend the Activity:
Talk about ways we can protect the planet.
Talk about other planets and how they all fit together in our solar system.