Easter is quickly approaching and I'm trying to finalize preparations. Easter baskets are a big part of our Easter day traditions. I like to buy the kids Easter baskets that are usable beyond Easter. It saves me from donating or storing them until the next year.
In past years, I have bought plastic buckets for Easter baskets, so that they can use them in the sandbox after Easter.
This year, I had the youngest two with me, when I purchased the baskets, which meant my plans which a little awry. They picked out fluffy bunny baskets. Paw Patrols Doc Mustuffins, and My Little Pony couldn't even win them over. They were determined to get the fluffy bunny Easter baskets and be twins.
I tried to stand firm, but with the oldest already passed that stage and the middle child's years of wanting a fluffy bunny basket dwindling, I caved. We are now the proud owners of two fluffy bunny baskets.

This post contains affiliate links. See my Disclosure Policy for details.
I knew the oldest would not appreciate a fluffy bunny basket or one of the many character baskets for sale.
I started thinking about what my tween son and teens would like. Going with my make the basket usable theme, I decided on a baseball cap.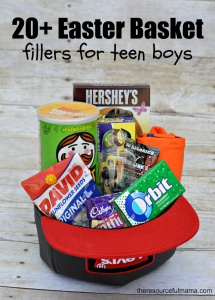 This post is inspired by a Easter basket made from a hat that I found on Pinterest. Unfortunately, after a lot of searching, I was unable to locate a source and origin of the pin.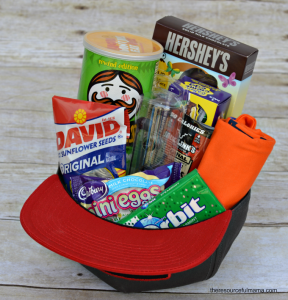 You've got your hat, aka Easter basket, now it's time to fill it. Check out the fun ideas I have come up with below. To make shopping easier I have included affiliate links to some of the items.
Easter Basket Fillers for Teens
Clothing & Accessories
Socks
Belt
Swimsuit (roll it up to fit in the baseball hat)
Candy & Snacks
If you have a tween or teen boy in your house, you know they like to eat. The grocery store is your second home you are there so much.
Gum
Mints
Sunflower Seeds
Chips
Beef Jerky
Tech Gadgets
Gift cards
Movies
Gas Stations
Restaurants
iTunes or Google Play
Bonus
Grab a baseball cap and fill it with you some of your teens favorite things.
If you have a daughter, who loves wearing hats this would be a fun Easter basket her too.
You also might like: