In attempts to plan out our Elf on the Shelf shenanigans, I rounded up some fun ideas for the Elf to help fill up our Elf Planning Calendar.
First up is the bathroom. Who knew the bathroom could be so much! Your kids will be giggly with excitement when they wake up on find your Elf hiding out in the bathroom.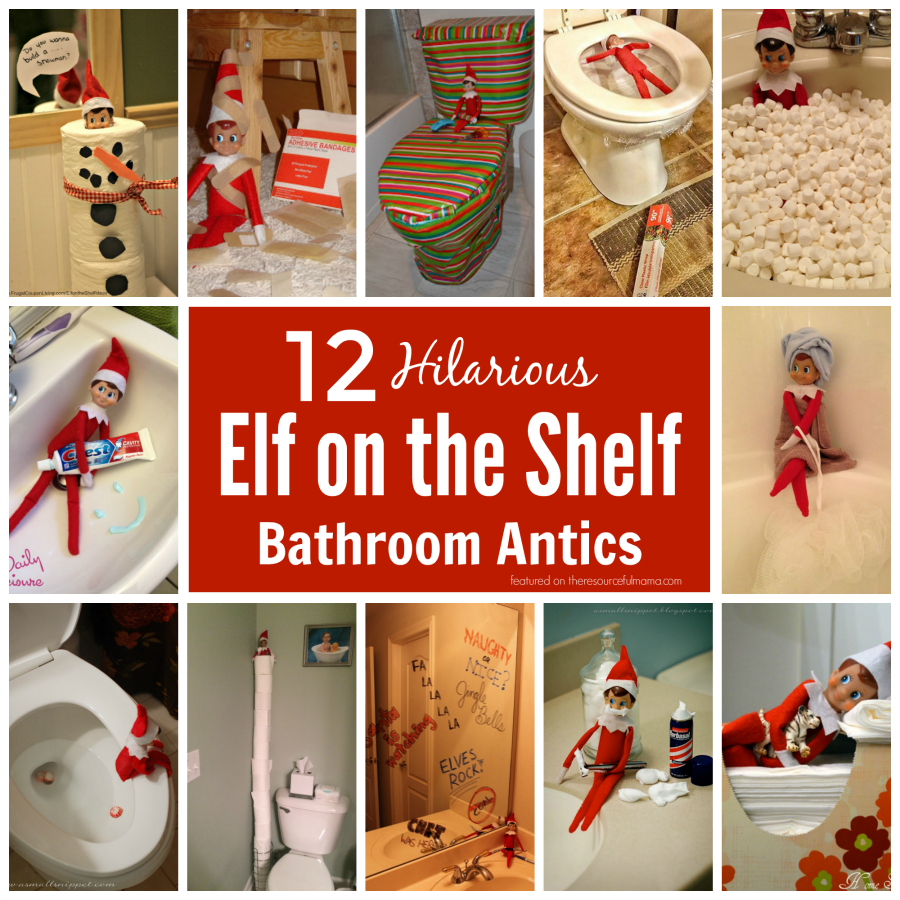 12 Elf on the Shelf Bathroom Ideas
This post contains affiliate links. See my Disclosure Policy for details.
Follow along on the picture above starting at the top left corner of the picture.
1. Do you want to build a snowman? by Frugal Coupon Living
2. All Bandaged Up from Twirlie Whirlies
3. Wrap It Up Nifty Thrifty & Thriving
4. Saran wrapped toilet from Shannon Hilton
5. Take a marshmallow bath from Real Life Real Estate Real Dana
6. Draw a smiley face from toothpaste from Daily Leisure
7. All wrapped up around a bath from Shannon Hilton
8. The elf is pooping peppermints from A Small Snippet
9. Building a toilet paper tower from Pinterest
10. Leaving notes on the mirror from Amy Sanders
11. Elf shaving from A Small Snippet
12. Taking a nap in the tissue box from Home Stories A to Z
Related:Fun & Easy Elf on the Shelf Ideas for the Kitchen ||Printable Elf Hide & Seek Game|| Candy Cane Hide & Seek Game (Free Printable)
SHARE YOURS WITH US
Tag us in your photos on Instagram, Twitter, and Facebook with your Elf on the Shelf pictures.
You Also Might Like