This printable hide & seek game is a fun, interactive Elf on the Shelf Activity that requires very little prep while keeping your elf shenanigans fun and interesting.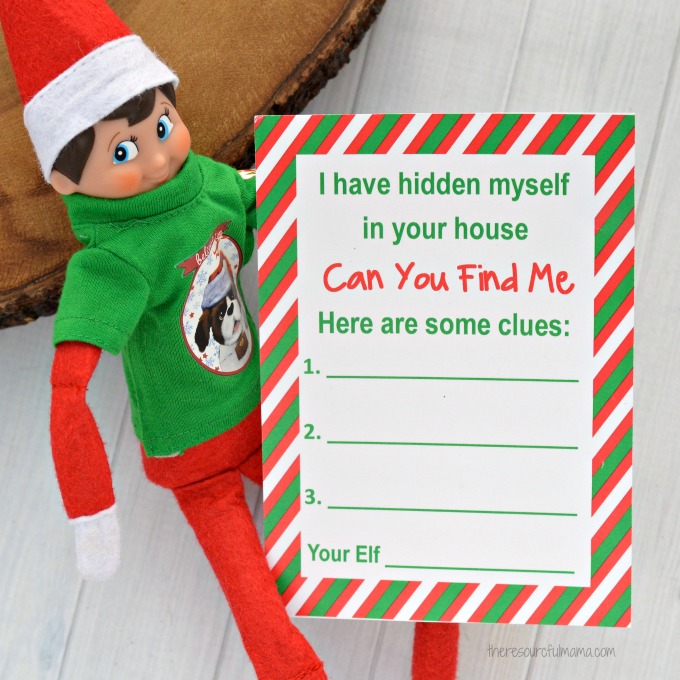 Our kids love their elves and look forward to their return year after year. They jump up out of bed excited to find their elf in the mornings. I love seeing their eyes light up and hearing their shrieks when they find their elf.
As the kids get older and we add another year, we continue to challenge ourselves to come up with new and exciting ideas for their elves. The kids love when their elves are mischievous or hide really well.
They love searching for their elves, but the reality is most mornings they have school and with our already crazy morning routine, the kids don't have hours to search for their elves. I created this printable hide & seek game that gives them some clues. It allows us to put their elves in really clever and sneaky places without making them late for school.
This elf on the shelf activity requires some prep work for you, but it adds a little fun and interest to your elf.
This post contains affiliate links. See my Disclosure Policy for details.
The Elf on the Shelf: A Christmas Tradition
How it works
1. Print the Hide & Seek Activity (two games will print per page). We printed our's on white cardstock to make it a little more durable. You could also laminate your hide & seek game and use it over and over during the holiday season.
2. Fill in the clues and sign your Elf's name.
Elf on the Shelf: A Christmas Tradition (girl scout elf)
Elf on The Shelf Snowflake Skirt
3. Leave the hide & seek printable game somewhere that your kids will easily find it. We left ours on the table with their pet reindeer.
Download
You Also Might Like