My kids informed me that I got ahead of myself. I made Halloween Dot Painting worksheets before I made Fall Dot Painting worksheets, so I quickly made a set of fall themed dot painting worksheets.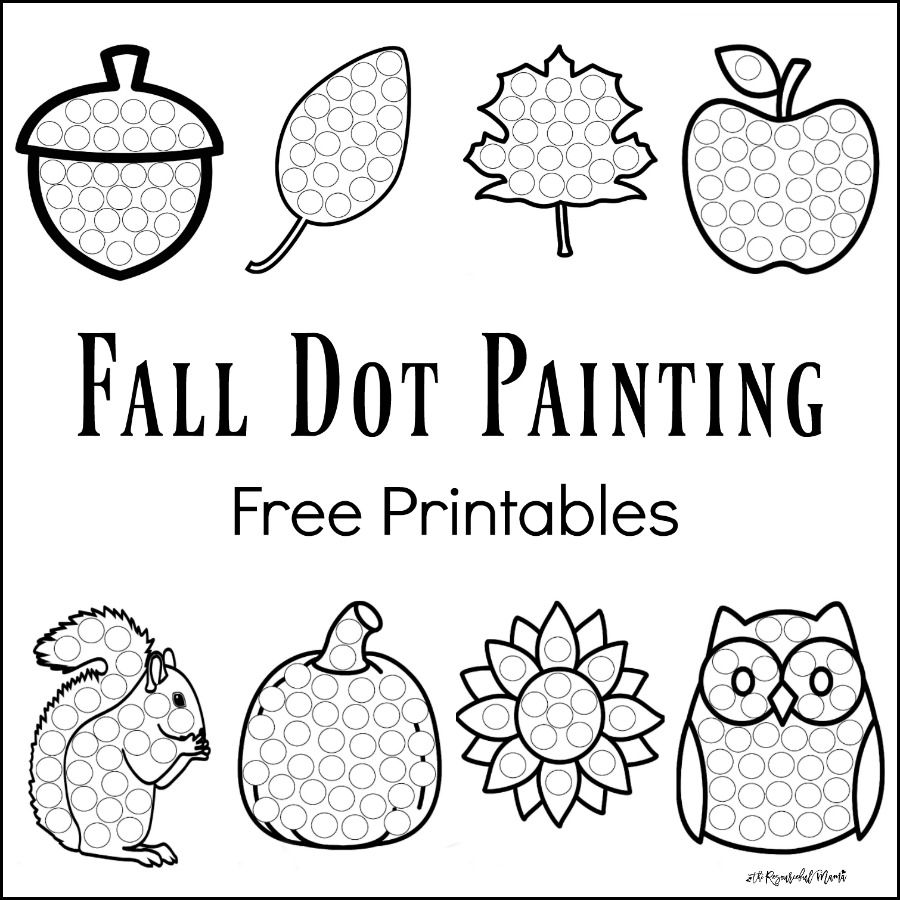 I made an apple and pumpkin last year and expanded to include an acorn, leaves, a squirrel, a sunflower, and an owl this year.
Related: Fall Crafts, Activities, Printables, Snacks
This post contains affiliate links. See my Disclosure Policy for details.
Getting Started
Not only are these Fall Dot Painting worksheets fairly mess free, but set up and clean up is super easy.
This Fall Dot Painting set includes eight black and white worksheets: acorn, apple, 2 different leaves, owl, squirrel, pumpkin, and sunflower. Print these Fall dot painting worksheets on regular 8 1/2 x 11″ paper.
Download: Fall Dot Marker Worksheets
We use Do A Dot Art! Markers for dot painting. If you don't have Do a Dot Markers, you could also use Bingo Markers or Pom-Poms. Use a clothespin and squeeze a pom pom for a DIY pom pom dot maker.

Benefits of Dot Painting
Besides being mess free, dot painting also helps kids develop hand-eye coordination as they direct their marker to the spot on their paper. Kids strengthen fine motor skills as they hold the dot markers and move their hands to apply the marker to the paper.
Do A Dot Art Markers, are especially great for little ones. They are chunky, making it easier for their little hands to easily grab and manipulate.
We have had our Do a Dot Markers for a few years and they still work great!
More Fall Printables