We are character crazy at our house right now from character themed birthday parties to Halloween costumes to pumpkins. We made painted Pokemon inspired pumpkins a few weeks ago with the oldest and the other two have been begging for their own favorite character pumpkins. We typically stick with no-carve pumpkins until just a few days before Halloween.
The kids are always anxious to carve pumpkins the minute we bring them home from the pumpkin patch, but our temperatures can get fairly warm in October, resulting in rotten pumpkins. We usually do a couple of no-carve pumpkins to hopes of keeping them from asking to carve pumpkins about a 100 time a day 🙂
We have a huge superhero and Ninja Turtle fan in house right now as well as Frozen and Barbie. I couldn't find a Barbie pumpkin, so if you have done one, please share. Our daughter will be thrilled!
This post contains affiliate links. See my Disclosure Policy for details.
Painted Character Pumpkins
Pumpkins are listed using above photo as reference. Start at the top right corner, work your way across, and then down to the next row.
1. Superhero Pumpkins by Delicious by Dre
2. Pete the Cat Pumpkin by Think Magnet Kids
3. Frozen Elsa Pumpkin by A Pumpkin & A Princess
4. Olaf Pumpkin by The Bubbly Bay
5. Teenage Mutant Ninja Turtles Pumpkins by Crafty Morning
6. Angry Birds Pumpkins by Creations by Kara
7. Rainbow Dash My Little Pony Pumpkin (This was so cute I had to include it, but unfortunately this was uploaded to Pinterest and I don't have a link to a tutorial.)
8. Minnie Mouse Pumpkin by Disney Baby
9. Minions Pumpkins by Crafty Morning
10. Pokemon Pumpkins by The Resourceful Mama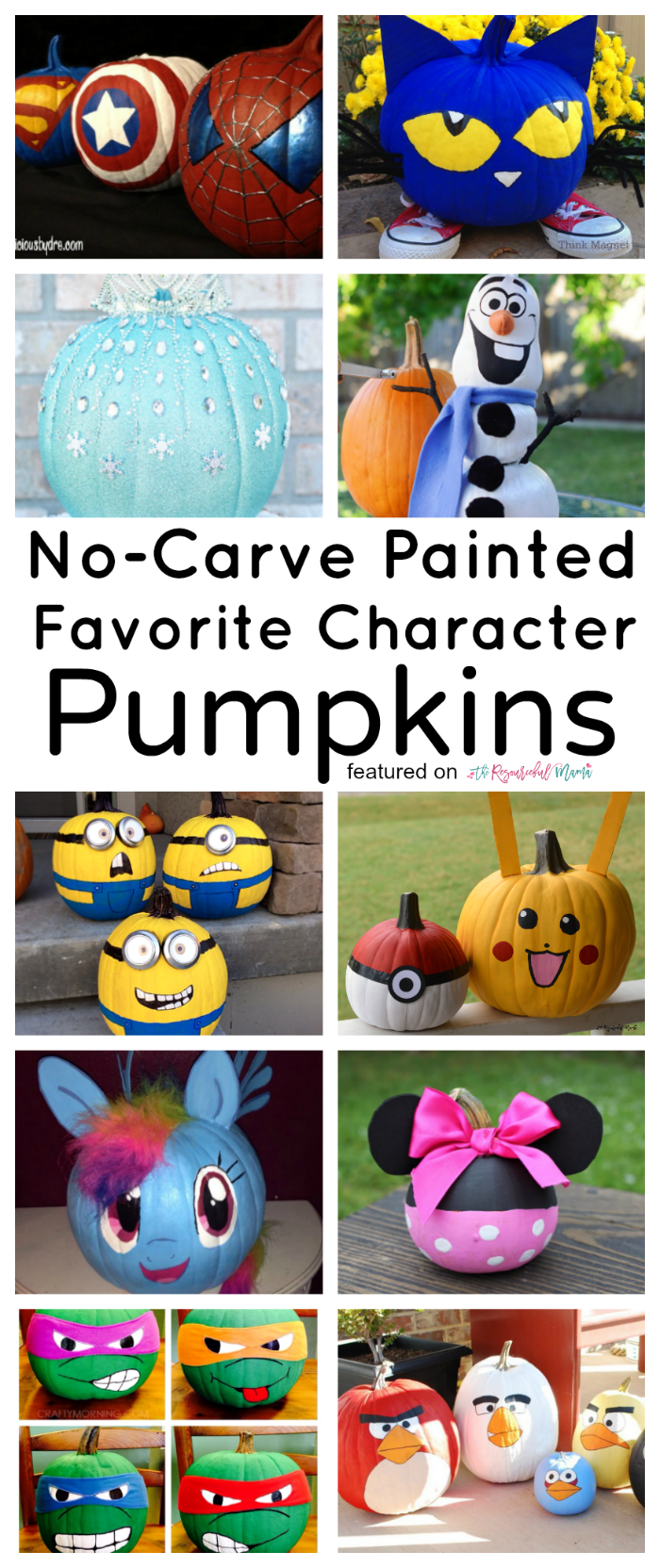 We Want to See Your Painted Pumpkins
Tag us on Instagram, Twitter, or Facebook with your painted character pumpkins.
You Also Might Like