Transform paper plates into a beautiful Calla Lily Flower Craft for kids. Kids will love making a bouquet of calla lilies for their mom on Mother's Day. They make a great homemade Mother's Day gift that will last forever.
I have always loved calla lilies. I remember wanting to use them exclusively in my wedding bouquet until we started talking price and how much it would cost to do what I was envisioning.
Fortunately, the cost for my envisioned calla lily flower craft was much for affordable. This idea just came to me one day. As soon as I could, I ran and grab the paper plates and started shaping them into my idea. As I often do, I took it my husband and asked him what he thought. He replied that it was a nice ice cream cone. What!? I grabbed a couple more things and it started to come together and look more like a lily and less like an ice cream cone.
Supplies
This post contains affiliate links. See my Disclosure Policy for details.
Paper plates (We used the smaller dessert sized paper plates for our calla lily flower craft.)
Green paper straws
Glue
We did this flower craft at home and was able to use our hot glue gun to glue our pieces together. We did test the craft using a glue stick and white school glue. The glue stick did not work. White school glue does work, but you need to allow the glue to dry. A stapler also would work to attach the straw and paper.
Directions
1. If you chose to paint your calla lily, start off by painting both sides of your paper plate and allow it to dry. We did some white and some painted.
2. To make your calla lily flower craft you are going to bring in both sides of the paper plate, so that one side will overlap the other. You only want to do this at the bottom of your plate, so that the top will remain open.
3. Once you have the shape of your calla lilly, glue the straw to the plate. The green straw is going to be your stem. We glued ours to the bottom side of one of the folded in pieces.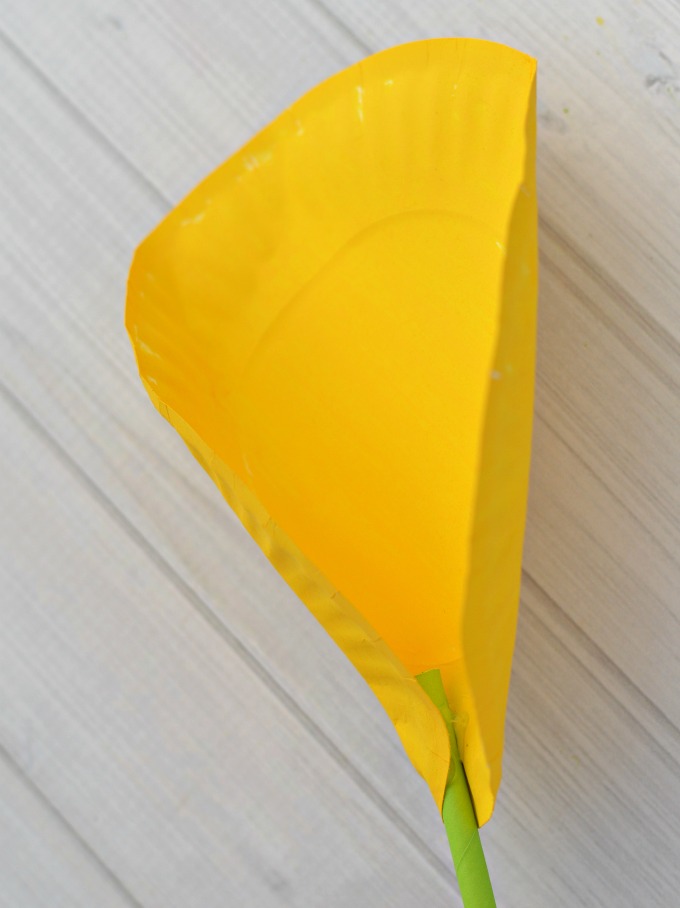 4. Fold the top piece of the paper plate over the bottom fold and glue.
5.Cut your pipe cleaner in half and stick it into the top of the straw, so that it sticks out and forms the spadix of the flower.
Make several calla lilies and form a calla lily bouquet that will last forever. This would make a cute homemade Mother's Day gift.
You Also Might Like