I love lots of color and enjoy doing bright colorful crafts,like this Paper Plate Rainbow Craft, especially when I'm ready for winter to be over and spring to arrive.
This tissue paper and paper plate rainbow craft is not only perfect for the upcoming St. Patrick's Day holiday, but also to welcome spring.
This rainbow craft is super fun, simple, inexpensive, and can be enjoyed by kids of all ages. All three of my kids (9, 6, 4) did this rainbow craft with me.

This post contains affiliate links. See my Disclosure Policy for details.
---
Supplies:
Cost: under $3
Paper plate
Tissue paper (ever color of the rainbow)
Glue stick
Scissors
Directions:
Age: Toddler and older
1. Cut a paper plate in 1/2. Each child needs 1/2 of a paper plate for this project.
2. For this rainbow craft, I cute strips of tissue paper of each different color of the rainbow and gave them to the kids. The kids cut the strips into smaller pieces and using their glue sticks, glued them to the plate to form a rainbow. For kids who are not yet using scissors, cut pieces of tissue paper and add glue to the paper plate. The kids can put the pieces of tissue paper onto the plate to form rainbow.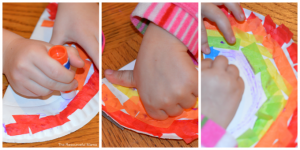 Learning & Development:
As a mom, I like to find ways to incorporate (sneak) learning into every day activities and crafts. These times are especially helpful if you have a child, who is resistant to sitting down and doing learning activities and worksheets.
With your toddlers and preschoolers, talk about the colors of the rainbow and count how many colors are in the rainbow. This is project provides great scissor practice for toddlers and preschoolers.
For all kids talk about rainbows and how they form. Discovery Kids has a great short and simple description on rainbow formation.
Next time it rains be on the look out for a rainbow.
---
You might also like: