In the summer we love making patriotic crafts for Memorial Day, Flag Day, and the 4th of July. I saw these patriotic paper straws recently at…are you ready for this…Hobby Lobby. If you have been reading The Resourceful Mama for long, you know that is my second home. I ♥ craft stores!
Anyhow back to the craft. I love the trendy paper straws that are everywhere right now. I bought some for the kids to use in their drinks, but they rejected them and asked for their "normal" straws. My paper straws were banned to crafting.
We do a lot of crafts at home with the kids, but our oldest is going to be nine at the end of summer and is not very into cupcake liners, pom poms, and pipe cleaners. I thought it was time to do a craft with him.
This post contains affiliate links. See my Disclosure Policy for details.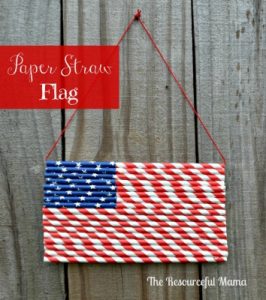 You can make your patriotic paper straw flag as big or small as you want it. We chose to make ours 17 straws tall.
What you need to make a patriotic paper straw flag >>>
How to make a patriotic paper straw flag >>>
Using the glue gun glue 9 red/white stripe paper straws together. Lay the straws on a flat surface (we used a plastic placement at the kitchen table), put a few dots of glue onto the top of one straw, place another straw onto that one until you get all nine glued together.
Cut your blue and white star paper straws into 3″ pieces. We used 8-3″ pieces.
Use the glue gun to glue your blue star 3″ straw pieces together and attach with glue to the left side of your red/white stripe straws that you already glued.
This next step you can do two different ways. You can glue 9 red/white stripe straws to the right of your blue star straws onto the red/white straws you already glued and then cut off the excess. You can also fit each red/white stripe into its spot next the blue star straws and cut off the excess and then glue them onto the straws you have already glued together. These straws ended up measuring 4 3/4″.
Once you have all your straws glued together and your flag made, thread a piece of red hemp cord through the top row and tie a knot at the top to hang.
Don't throw any of your leftover straws or pieces away! We have another project for those. Come back next week to see it.