This shop has been compensated by Collective Bias, Inc. and its advertiser. All opinions are mine alone. #PerfectPortions #CollectiveBias
---
There's always so much to do before a trip. I have been known to leave the pet care to last on my to do list on more than one occasion. Our pets are just as important, but I know I can rely on our wonderful pet sitters. They been taking care of our pets for a number of years and for the most part know the drill.
Well, we threw them a curve ball the last time we traveled. We had gotten two new kitties, Checkers and Tuck, since our last trip and changed a few things around.

This post contains affiliate links. See my Disclosure Policy for details.
The Problem
Had I taken the time to think about it, I would have realized that we had not used our pet sitter since getting the kitties, but I didn't. I probably would have scribbled out a few instructions had I remembered this important detail, but there were a gazillion and one other things taking over my time for our month long road trip.
We got a call a day into our trip. They could not find the cat food and had feed our cats their food the first day. Yes, we had moved the cat food and it was not in an obvious place. We relayed all the information and instructions they needed over the phone.
The Solution
Once I arrived back home, I decided to make a Pet Care Information card we could fill out and update as needed. This way I don't have to worry about those details while checking off my mile long to do list before a trip. It's also handy to have if an emergency comes up and we have to call our pet sitter last minute and don't have time to relay details.
Download the Pet Care Information card and print on regular 8 1/2″x11″.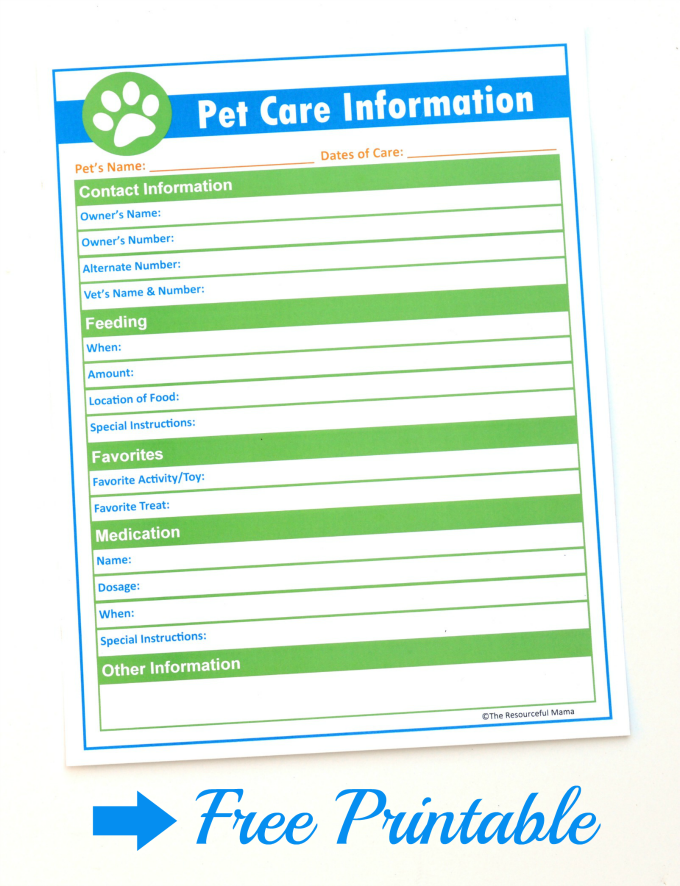 I'm so glad I got this done. We are planning a quick trip over the upcoming holiday weekend, so I'm putting together a Pet Care bag for the kitties that will be ready for the pet sitter.
In our Pet Care Package
Pet Care Information Card
Food
Treats
*Medications would also be good to add to this bag if your cat takes any.
SHEBA® WHAT CATS WANT™
With three kids in charge of caring for the cats and a pet sitter occasionally, the kitties have a tendency to get overfed. SHEBA® PERFECT PORTIONS™ helps control the amount they are fed. The perfectly portioned double package and easy to open top makes it easy for the kids to feed their cats. They are also super easy and convenient to leave for the petter sitter.
The cats found my recent stash and was checking everything out. They approved 🙂
The kids often give our two dogs treats and have been begging for treats for their cats. Did you know there are treats for cats just like dogs?! The kids were really excited when I found SHEBA® Meaty Tender Sticks. They are a fun, stick-shaped snack made with real meat and no artificial flavors. The cats love them!
Get more great information on SHEBA® PERFECT PORTIONS™ and Meaty Tender Sticks and pick some up at Walmart. They are located in the pet area.