Our kids love to paint and are always excited when I bring out something other than traditional paintbrushes to paint. With Valentine's Day fast approaching, we decided to do sponge painted hearts for a quick and easy Valentine's Day art project.
Supplies
This post contains affiliate links. See my Disclosure Policy for details.
White paper (A thicker paper like cardstock would be best to absorb the paint.)
Sponge
Paint (We used red and pink paint.)
We used two colors of paint (red and pink) for this Valentine's Day art project to add more dimension to our painting. Pink and purple would also be a good combination for Valentine's Day.
Directions
1. To get started, make a heart stencil that is smaller than the piece of paper you will using for painting. Place the heart stencil near the center of the paper. We used a couple of pieces of tape to lightly attach the stencil to our paper.
2. Cut two pieces from the sponge to use for painting. We have used clothespins to hold our sponges, but this sponge was fairly stiff, so we chose to cut larger pieces of the sponges. Make sure your sponge paintbrush is large enough for your child to grip.
3. Dab the sponges in the paint and then dab onto the paper around the heart stencil alternating colors. Repeat until the white paper is covered. With the hand that is not painting gently press down on the heart stencil while painting around the heart.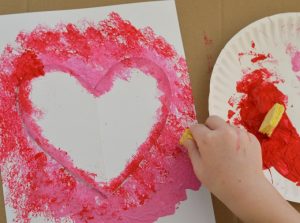 4. Gently remove the heart stencil to reveal your heart.
More Valentine's Day