This post contains affiliate links. See my Disclosure Policy for details.
I have finally got all the kids' summer sandals purchased and ready. Almost as soon as the snow melts and the trees start to bloom, my kids complain that their feet are hot in their socks and shoes. They have to suffer through until school is out. By then their tennis shoes have seen better days and its time for a replacement.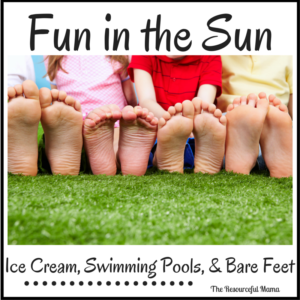 Our favorite footwear for summer is no footwear. We love, love, love to go bare foot in the summer. For all those times when shoes are required, check out these great summer sandals for kids.
I just picked these Crocs sandals up at Marshalls for my daughter. These will be easy for my three year to put on herself with their velcro closure. She can get them wet or dirty and clean up will be easy.
Keeley Petal Charm Sandal ~big girl sizes
Keeley Petal Charm Sandal~little girl toddler sizes
This will be our first summer with these Crocs sandals. She also has a pair of these Crocs pictured below. These were another Marshalls purchase earlier in the spring. They are great to wear into the sandbox or mud as my kids seem to be inclined to lately. I just hose them off afterwards and let them dry in the sun.
Crocs Clog~both little girl and big girl sizes
I also got her a pair of sandals from Stride Rite this summer. I have purchased sandals similar to these for the boys every summer.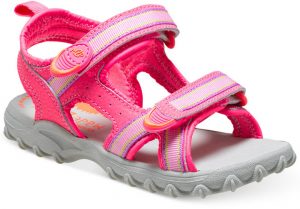 Stride Rite Snorkel Sandals~little girl sizes
Stride Rite Snorkel Sandals~girl sizes
Stride Rite Snorkel Sandals~toddler sizes
I buy a pair of white sandals for her to wear with her church dresses each summer (her shoe size continues to change each year). I found a pair at Marshalls this year. These are similar to the ones I bought her.
I buy sandals from Stride Rite similar to the ones pictured below every summer for my boys (they are a different size every summer). One summer I purchased another brand of sandals and they lasted about two weeks, so we stick with Stride Rite. The boys trade in their tennis shoes for these sandals in the summer. I even let the boys wear them to church with their shorts and polo tops.
Stride Rite Sharkie Sandals ~boy sizes
Stride Rite Sharkie Sandals~toddler/little boy sizes
I bought these Nike sandals for my oldest last year for wearing to the pool. He loved them and asked that I buy him a pair this year in his new size. Younger brother is getting last year's pair.
My boys also love Crocs. Last year they got lucky and we found Lego Crocs deeply discounted at a clearance sale, so they both got a pair. There are some fun character Crocs available this year.
Crocs Marvel Advengers Slip-on
How fun are these!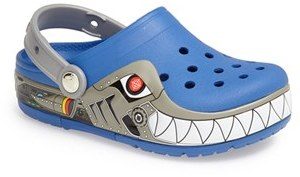 My daughter loves shoes and would continue to buy shoes all summer. She might luck out and get some "new to her" shoes from a friend at some point, but otherwise she is done.
The next best thing in the summer to being bare foot is these Nike Women's Celso Flip Flops for me. I used to buy a couple pair of cheap flip flops from Gap or Old Navy. Last summer I purchased these Nike Flip Flops instead and I haven't looked back. I love them; they are super comfy!
Now we just need sandals and flip flop weather! It has been rainy here and the temperatures continue to drop. I had just put long sleeve shirts away and found myself pulling some out this week.
Read here how I make money selling their previous summer's gently used shoes.
Linking up with these great bloggers!