This T is for Turkey Craft is a great Thanksgiving craft for preschoolers working on their letters. It's a fun, festive way to get reinforce the letter "T".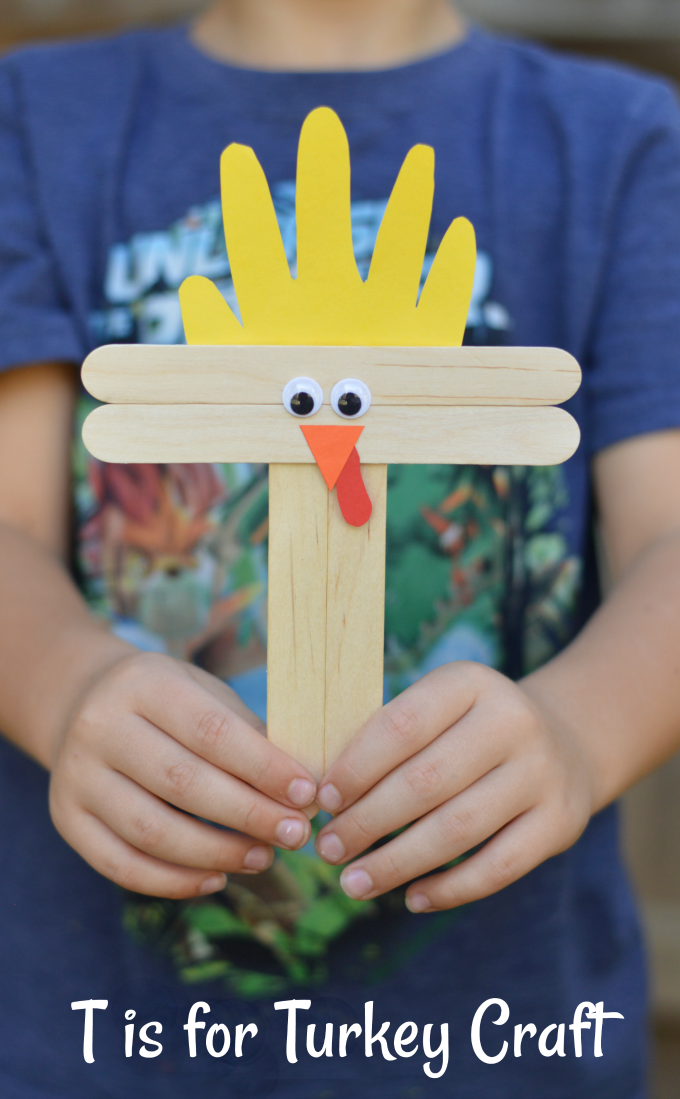 Our kids are getting bigger, so I'm trying to squeeze in as many handprint crafts as I can. Before too long their little hands and fingers will be too large for handprint art and crafts.
This turkey craft was made with our five year old, but our seven year volunteered to hold it for the photo…just case you notice the difference in finger size 🙂
Supplies
This post contains affiliate links. See the Disclosure Policy for details.
Wooden craft sticks
Paper
Googly eyes
Glue
Before you get started on this craft, read T is for Turkey: A True Thanksgiving Story
. This turkey craft is a great extension to this book.
Directions
1. I used a glue gun and glued the craft sticks together ahead of time to form the T. I used four craft sticks to make the turkey craft. Lay two craft sticks down vertically. Glue two more craft sticks horizontally to the top to form a letter "T".
2. Trace your child's hand onto colored paper and cut out. Depending on the size of your child's hand, you may need trim some of the bottom off to fit on the T.
3. Glue the hand to the back of the letter T so that the fingers stick up and make your turkey's feathers.
4. Cut a beak out of of orange paper and a gobbler out of red paper. Glue googly eyes, gobbler, and beak the horizontal craft sticks. You also give your child markers and have them draw the eyes, beak, and gobbler.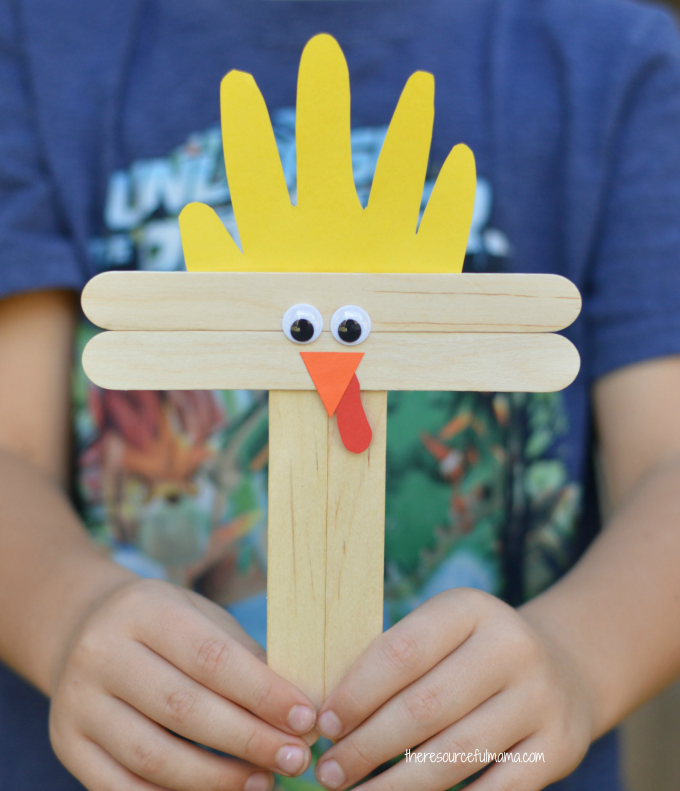 You Also Might Like
Flat Clothespin Turkey Kid Craft
Thanksgiving Printables: Thanksgiving Lunch Box Notes | Thanksgiving Dot Activity Worksheets