Last week we made paper plate Christmas wreaths. We cut out the outer rim of a paper plate for the wreath leaving the inside circle; perfect for a kid made Christmas ornament.
These ornaments are very inexpensive and easy for kids to make without a lot of help or supervision.

This post contains affiliate links. See my Disclosure Policy for details.
Supplies:
Paper plate
Tissue paper (various colors)
Scissors
Glue stick
Tape
Ribbon

Directions:
1. Cut the outside rim from the paper paper plate, so that you have just the inside circle. If you are doing the wreath project as well make sure you do it so you keep the outside rim intact.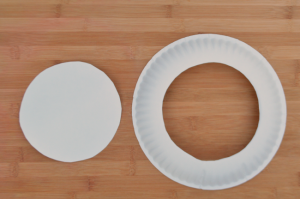 2. Cut or tear pieces of tissue paper and glue to the paper circle.
3. Cut a piece of ribbon, make a loop and tape to the back of the ornament so that the loop comes out above the ornament and can hang from the tree.
We try to make a new ornament with the kids each year, but it's also nice when you sit them down at the table, put out some supplies, and let the kids create.
I love pulling these homemade ornaments out the box each year and reflecting on the past years and all our Christmas memories.
You might also like these homemade Christmas ornaments: