We had beautiful weather this weekend, so I pulled out the supplies to make a toilet paper roll bird feeder craft and asked the kids if they wanted to make them. I got one taker.
As we were finishing, the oldest said, "that looks fun, I thought you were doing a boring activity." He's not much of a crafter; even your non crafty kids will enjoy this project.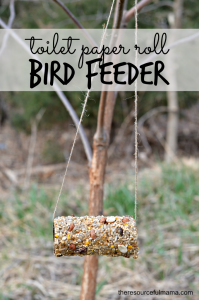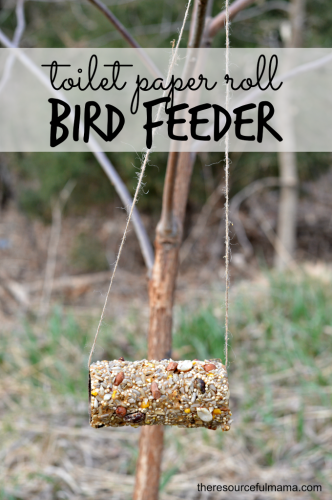 This post contains affiliate links. See my Disclosure Policy for details.
The kids enjoyed making bird seed ornaments this winter for the birds using lard. They got so excited when a bird flew into our backyard and nibbled on the bird see ornaments that they had crafted.
Lard does not hold up as the weather warms up, so we needed new bird feeders. With Earth Day coming up, it was the perfect opportunity to use our toilet paper rolls.
We love crafting with toilet paper and paper towel rolls. I have everyone trained to save all the toilet paper rolls. We have a box just for cardboard rolls with our craft supplies.
Supplies:
Peanut Butter
Bird seed
Toilet paper rolls
Update: Many have asked for alternatives to peanut butter. I have not tried any of these, but these are suggestions I have recieved: sunflower butter, almond butter, or soy butter. This natural homemade glue was also suggested. You can find it here.
Directions:
1. Using a popsicle stick, cover outside of toilet paper roll with peanut butter.
2. Roll the peanut butter covered toilet paper roll in the bird seed until covered.
3. Thread a piece of twine through the toilet paper roll and knot.
4. Hang where birds can enjoy.
Extended learning:
This is a great Earth day craft and an opportunity to talk about earth day. Earth day is a big event with a lot of history and new stories. It's a lot for young kids to understand. We can teach them to recycle, reuse what we already have in our crafts, and to take care of the environment. In this case, feeding the birds.
Kid Craft Challenge
This post is part our Kid Craft Challenge. The challenge for this month was to create a craft from a recycled item. Check out what fellow bloggers created from recyclables below.