As soon as the Christmas decorations were put away after New's Years, our kids started asking when and what the next holiday is. I kind of don't blame them. The last few months of the year are full of holiday fun from Halloween to New Years and then there really is not anything until Valentine's Day. Unless you are our middle child, he thinks we should have a huge celebration on Groundhog Day (regardless of the outcome).
We do a lot of fun winter activities, but the kids are definitely looking forward to Valentine's Day, so I made these Valentine's Day Dot Painting worksheets.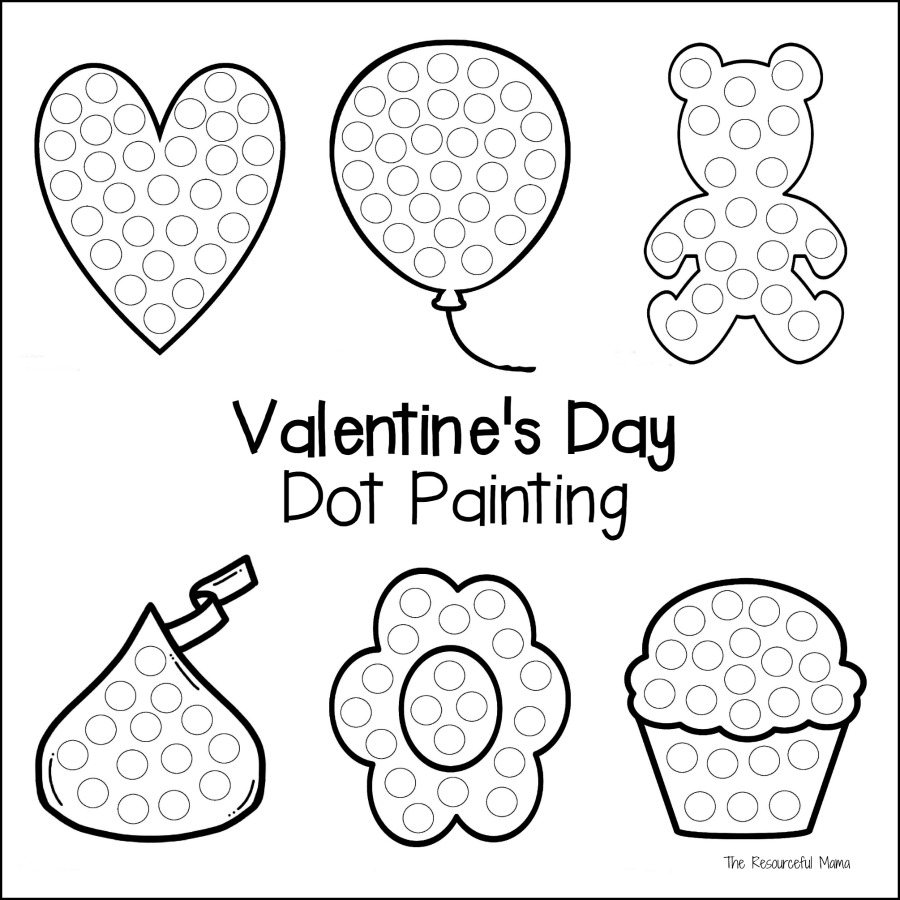 GETTING STARTED
This post contains affiliate links. See my Disclosure Policy for details.
I love how quickly you can set your kids up with these dot painting worksheets. There's minimal prep required to get started.
This Valentine's Day Dot Painting set includes six black and white worksheets: heart, balloon, teddy bear, candy kiss, flower, and cupcake.
Download and print these Valentine's Day dot painting worksheets on regular 8 1/2 x 11″ paper.
We use Do A Dot Art! Markers for dot painting. If you don't have Do a Dot Markers, you could also use Bingo Markers or Pom-Poms. Use a clothespin and squeeze a pom pom for a DIY pom pom dot maker.
Another great idea is to fill in the dots with round stickers. It makes these worksheets great for on the go as well as those times when you need a quiet activity to keep kids busy like doctor appointments and dining out.

BENEFITS OF DOT PAINTING
These dot painting worksheets offer several benefits to kids and students. Besides being mess free, dot painting also helps kids develop hand-eye coordination as they direct their marker to the spot on their paper. Kids strengthen fine motor skills as they hold the dot markers and move their hands to apply the marker to the paper.
Do A Dot Art Markers, are especially great for little ones. They are chunky, making it easier for their little hands to easily grab and manipulate.
SHARE YOURS WITH US
We love hearing and seeing how much you are enjoying our dot painting worksheets, tag us in your photos on Instagram, Twitter, and Facebook.
MORE DOT PAINTING WORKSHEETS