This post contains affiliate links. See my Disclosure Policy for details.
I recently ordered some clothing from Banana Republic and Gap Factory online stores that I loved and wanted to highlight. First I must mention, while I love high style and cutting edge fashion there are a few reasons it does not work for me:
a) I am a stay at home mom
b) I live in rural Kansas
c) I like to be comfortable.
They call this a sweater, but it felt like a light weight sweatshirt. Love the zipper details on the side!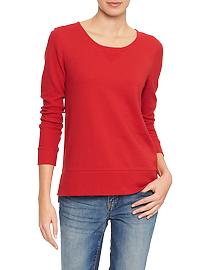 Gap Factory Mixed Fabric Tee~white, red, gray
I plan to wear this on Valentine's Day with a scarf to kids' Valentine Day parties.
I love how this fit and it so soft! My stomach is not my best asset, so I try to avoid tees that cling to it but don't want something that is too baggy or boxy. This fit the bill!
I love wearing long cardigans with skinny jeans and a scarf or long necklace. This one was a perfect fit and so comfy!
These pieces are all on sale and going fast!