My kids have been asking to use their Do A Dot Art Markers, so I decided to make a Heart Do a Dot Worksheet since Valentine's Day will soon be here.

This post contains affiliate links. See my Disclosure Policy for details.
I love Do A Dot Art Markers, especially for little ones. They are chunky enough for little hands to easily grab and manipulate. They have sponge tip applicator that serves as the painting applicator. I love that they are spill proof and therefore mess free!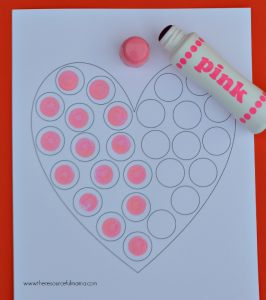 This worksheet is a great way to practice hand-eye coordination. Hand-eye coordination is the ability of the brain to use vision to guide movement.
Ideas for learning with this worksheet:
Name the two shapes used in this worksheet.
Name the color you choose to use for this worksheet.
Talk about where the circles are at…inside the heart.
Talk about size. Which one is bigger, the heart or the circles? Which one is smaller?
Count how many circles are in the heart?
Print worksheet here: Do a Dot Heart Worksheet