We are getting ready for the holidays and have begun our Christmas crafts. How adorable is the handprint bow on this Christmas Wreath Kid Craft.
I'm a sucker for handprint crafts. I love to pull them out each year and see how much their little hands have grown. Check out Glued to My Crafts version of this wreath. My kids' hands are a little (or lot) bigger and did not fit as well so we did some reconfiguring.
We love crafting with tissue paper and paper plates. The possibilities are endless. Both items can be purchased very inexpensively. I usually pick them up a the dollar store.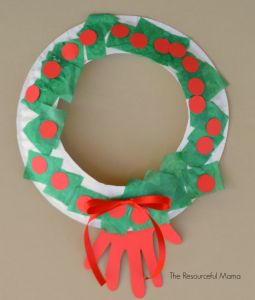 This post contains affiliate links. See my Disclosure Policy for details.
Supplies: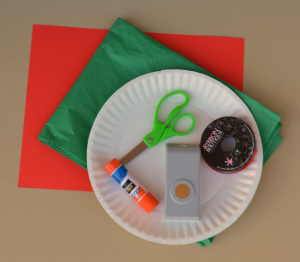 Directions:
1. Cut the inside rim off the paper plate while keeping it intact. We used the center for another Christmas craft project and wanted to keep both intact. The outside rim will be your Christmas wreath.
2. Cut or tear the green tissue paper into pieces and glue onto the paper plate. Great fine motor practice for the kids.
3. Cut small circles from red paper for the berries. We used our craft punch. Glue around the paper plate on the on top of the green tissue paper in various spots. Let the kids be creative.
4. Trace your child's hand onto red paper and cut out. Glue or tape their hand to the back of the wreath so that the hand is pointing downwards from the bottom of the wreath.
5. Using red ribbon make a bow and glue to the front of the wreath on the opposite side as the handprint (front of the wreath).
6. Display in your classroom or home.
My kindergartner and preschooler had a lot fun doing this project with me.
You can find lot of more Christmas inspiration here.