I recently did a post on Buying Brand Name Children's Clothing on a Discount Store Budget.  About the same time I was working on the post, I received these shirts in the mail that I had ordered from The Children's Place during a holiday weekend sale.  I  used a coupon code I received via email and received free shipping.  I also receive 5 points for every $1 spent in Place Rewards towards a $5 certificate.  I received 3 long sleeve shirts and 2 short sleeve shirts for my daughter from The Children's Place and then went to Walmart and purchased the same items.  Walmart had almost nothing left in long sleeve so I could not match up the exact sizing.
I also ordered a shirt for my oldest son from The Children's Place.  Again The Children's Place beat the Walmart price.
One of my suggestions for buying brand name clothing at discount store prices is to shop consignment and thrift. I recently found this gap winter coat at the Salvation Army.  I don't come out with armloads of bargains from thrift stores, but every once in awhile I find a gem.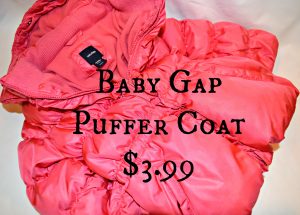 A couple of weeks ago we headed to Kansas City for the weekend.  One of my favorite stops is the outlet mall, which just happens to be on the way.  Across the street is a Chick A Fil for the kids and daddy to hang out at while I shop.
I had a 20% off coupon for Gymboree so I stopped by there to see what I could find.  One of my tips is to shop during a holiday sale.  For some reasons the stores do not recognize my birthday as a holiday, so I did not stumble upon a lot of good deals.  I did found a rack of girls tops marked down to $3.99.  With my 20% off coupon I got them each for $3.19 each beating the Walmart price again.  They had shirts with prints, but my daughter did not need any, so we stuck with the solid colors.
Find me linking up at: All Things Thursday at All Things With Purpose,  Thrifty Thursday at Living Well Spending Less, Your Turn to Shine at Bless'er House, This is How We Roll at Organized 31, Ladies Collective at Mommy Zoid