This post contains affiliate links. See my Disclosure Policy for details.
Part of last week was spent in Houston for spring break. Their weather was slightly warmer then what we had been experiencing in Kansas and their temps do not drop as low during the night and early morning. In Kansas, we still need a lightweight jacket or sweater for part of the day. I'm not complaining. We just received a picture of snow from a family member in Illinois.
I know turquoise jeans have not been trendy for a couple of years, but turquoise is my favorite color. These jeans are also fit great and are in great condition.
Ralph Lauren jeans via Marshalls~similar or similar/Loft sweater~ similar/Scholl's shoes via Marshalls~ similar
---
This is a great lightweight hooded sweater for cooler spring days. I like that it is long enough to wear with leggings.
Calvin Klein leggings via Marshall's~ similar or similar/Banana Republic Factory hooded sweater~similar/unknown scarf via Marshalls/Merona Madeline Ballet Flats
---
I had another pair of colored jeans on my want list and was excited to find these at the Loft Outlet last week while we were on spring break. I bought a different top and cardigan to wear with them and was excited to find this top I recently bought on clearance from Target was also a match.
Loft Outlet jeans~similar or similar or similar/Target top~similar or similar or similar or similar/Merona Madeline Ballet Flat
I turned to Pinterest in search of more inspiration for my new jeans.
---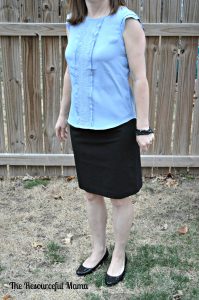 I also purchased this top from the Loft Outlet last week. I was so excited when I saw the Spring 2015 colors a few weeks ago. I love the ice blue (or light blue as I would call it ) and wanted to add this color to my spring wardrobe.
Banana Republic Factory Pencil Skirt/Loft Outlet top similar or similar/Me Too shoes similar or similar or similar