It's hard to believe that school will soon be starting. Where did the summer go!?
We just finished our school shopping at Wal-Mart and are working on getting everything organized for move in night and the first day of school.
While shopping at Wal-Mart for back to school supplies we made sure to grab products that earn double box tops, which equals money for our school.
One of the easiest ways to support your child's school is by collecting box tops. Each box tops you collect earns your school $.10. Schools can use the money for anything they need from computers to books to playground equipment and much more.
This post contains affiliate links. See my Disclosure Policy for details.
Earn Double Box Tops
Between our three kids, we needed 7 boxes of Kleenex, so we picked up a 4 pack of Kleenex Everyday Facial Tissue and a 3 pack of Kleenex Everyday Facial Tissue-Captain America (My 1st grader is pretty excited about these!). Each pack had 8 bonus box tops, that is $1.60 between the two packs for our schools! Just imagine if everyone family in the district were to do the same. That's a lot of money for our school!
We seem to blow through paper towels, so we also grabbed a 6 pack of Viva Vantage Big Rolls. That earned us 8 more bonus box tops. Are you following along with the math!? We are now at $2.40 for our school.
We needed a system for storing and organizing our bonus box tops, plus all the box tops we will be collecting throughout the year. We loved the fun designs on the Kleenex Tissue boxes, so we turned the empty box into a box tops collection container.
Create a Box Tops Collection Container
The box tops collection container was super easy to do. All you need is a label or piece of cardstock, marker, and glue.
Cut out a piece of paper to fit on your Kleenex box.
Using a marker, write box tops on the box. We also taped a couple of box tops on the label to help our preschooler identify the purpose of the container.
Attach the label to the front of the Kleenex tissue box and start filling with box tops.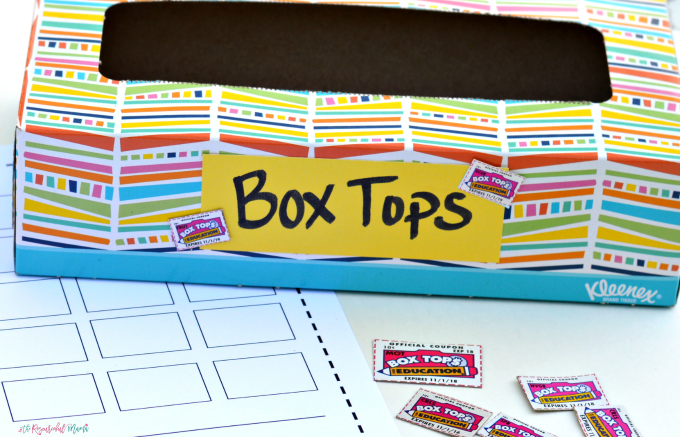 Attach the Box Tops to Collection Forms
At some point, it became Grandma's job to organize the box tops on collection forms when she visits. Our middle child is always anxious to help attach the collected box tops the collection forms. We created some fun collection forms to have on hand for her visits.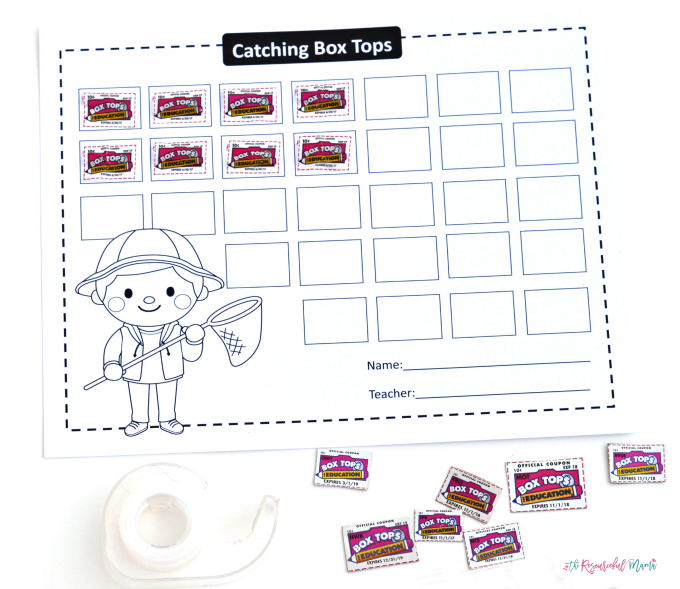 Tip from Grandma: Use double-sided tape to go faster.
Be sure to download and print your Box Tops Collection Forms and start earning money for your school. Before you head out to Wal-Mart to shop or place your order at Walmart.com, be sure to check out all the items that earn double box tops.