How fun is it to pop bubble wrap! The kids love to stomp on it. We started using it to make crafts a few months ago and fell in love with it as a crafting material. We have made a bubble wrap snowman, bubble wrap Easter egg, bubble wrap flowers, and today we are adding a Bubble Wrap Jellyfish Craft to our list of bubble wrap crafts (be sure to check out the other summer themed bubble wrap crafts below).
This post contains affiliate links. See my Disclosure Policy for details.
Jellyfish are translucent and take on the color of their surroundings, making bubble wrap perfect for their long tentacles.
Bubble wrap is not our only favorite craft supply, we also LOVE paper plate crafts! This paper plate and bubble wrap jellyfish craft is super inexpensive and fun to make. Save bubble wrap from your shipments and pick up paper plates and googly eyes at the Dollar Store.
Supplies for Jellyfish Craft:
Paper plate
Bubble wrap
Paint
Googly eyes
Scissors
Tape
Glue
Paintbrush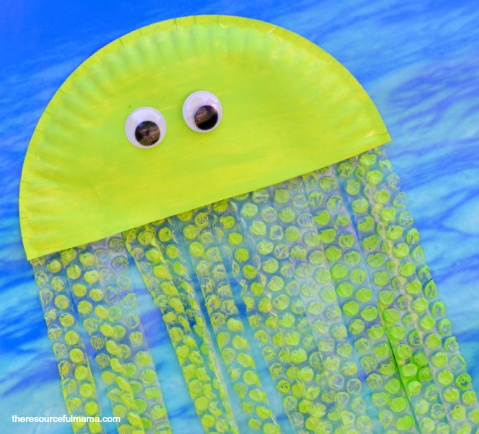 Directions for Jellyfish Craft:
1. Cut a paper plate in 1/2. You need just 1/2 per jellyfish craft.
2. Paint the paper plate for the body of the jellyfish.
3. Cut long strips of bubble wrap for the tentacles and lightly paint the same color as the paper plate.
4. After all pieces have dried tape the bubble wrap tentacles to the back of the paper plate, so that that they hang down.
5. Glue 2 googly eyes to the front of the plate.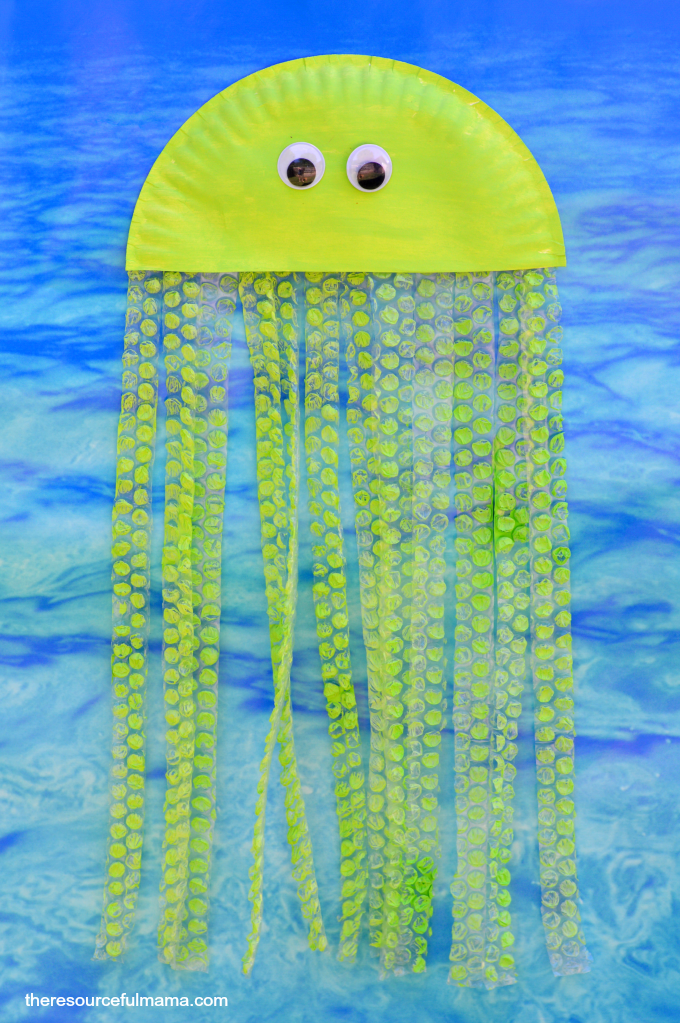 More Summer Themed Bubble Wrap Crafts
I had the opportunity to join a few other talented craft bloggers to make summer themed bubble wrap crafts. Check out their awesome bubble wrap crafts.