A few weeks ago I came home with some craft supplies, I had picked up to make Christmas crafts and ornaments. My creative little kindergartner started going through the stuff and brainstorming ideas. He saw the clear ornament balls and little foam balls and said he wanted to make a Frosty the Snowman Ornament.
The kids love watching Frosty the Snowman every during the Christmas holidays. It's a tradition we carried both over from our childhoods' and enjoy sharing with our children, so were thrilled to make a Frosty the Snowman ornament.
We quickly got started pulling all the need items togethers. We have a huge bin of pom poms, but I don't keep little black hats on hand, so back to the craft store I went. I found the little black hat with the doll making materials.
I know Frosty is supposed to have a button nose. We tried a button nose on this ornament. My husband said with the two little holes in the button, it looked like a pig's nose, so pom pom it is.
This post contains affiliate links. See my Disclosure Policy for details.
Supplies
Directions
1. Gently pull the top off the ornament and fill it with the foam balls. The kids helped with this part. They used a funnel to add the little styrofoam balls (I had Wolverine helping…aka my son in his Halloween costume.)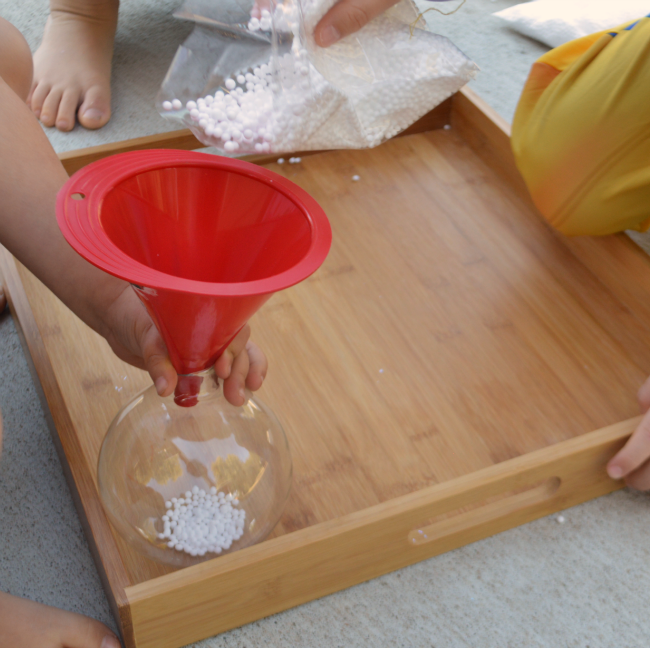 2. The ornament lid has hooks to keep it closed, but I added some hot glue around the top to make sure it was really secure.
3. Glue poms poms on the front of the ornament for the eyes, nose, and mouth.
We were moving right along, the ornament was coming along great; until we started to put the hat on and I realized we were going to cover the hook. How were we going to hang it on the tree?!
Solution→
4. Using a sewing needle and fishing line, thread the string through the hat by sticking the needle through the inside top of the hat. Make a loop and thread back through the top of the hat so you are inside the hat again. Take your lose ends of fishing line and pull one of them through the hole on the ornament hook and knot to the other end.
5. Hot glue the hat the ornament.
You Also Might Like
Making an ornament is one of our Christmastime traditions. We make one a year (or sometimes more) with the kids.
More Christmas ornaments
2 Bees in a Pod | Karen's Up On the Hill | Pocketful of Posies | Green with Decor | Around the Watts House | Somewhat Quirky Design | It All Started with Paint | My Creative Days | Patina Paradise | Leaves and Stitches | The Flamingo Chronicals | Reinvented | The Crowned Goat | Life on Deer Run | Lehman Lane | Eclectic Soapbox