As soon as we arrived at Grandpa and Grandma's for Thanksgiving this week, they started asking for Christmas lists. We had circled some items in catalogs and made note of a few items, but we had yet to compile lists. While Grandma was busy ruining to the grocery store to grab last minute items for the Thanksgiving meal, we got started on Christmas lists.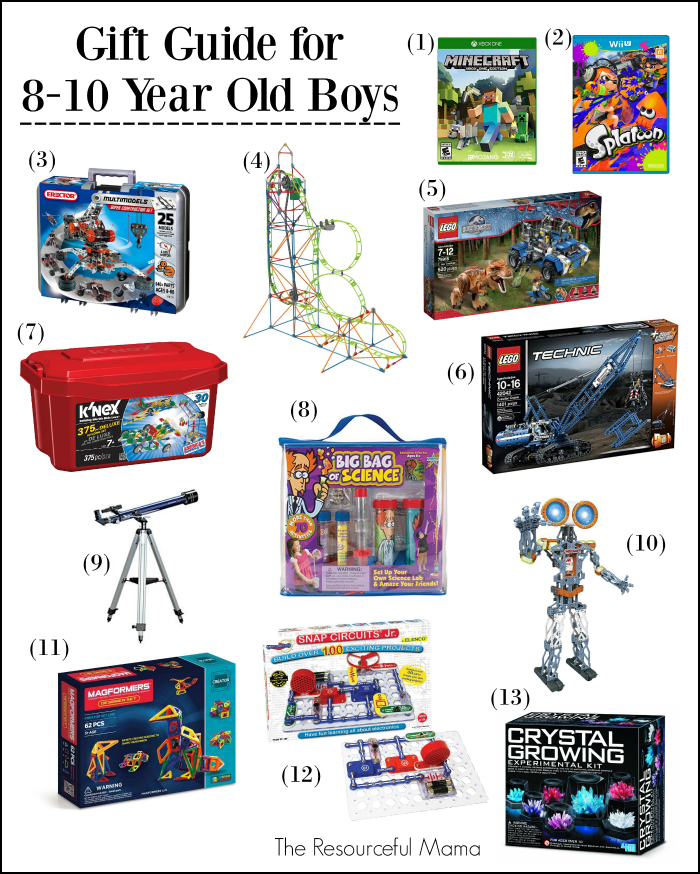 We have a child that falls into this 8-10 group (or tween). I envisioned him having a shorter list this year, as he has moved beyond a lot of the traditional toys of the younger years and is enjoying electronics more. Turns out his list was the longest and needed to be narrowed down! In the end, he focused on building and scientific toys this year.
Gifts 8-10 Year Olds
This guide includes some items that he has and loves and some new ones. The items correspond with the image above. Click on the highlighted title for more information.
This post contains affiliate links. See my Disclosure Policy for details.
1. Minecraft
Minecraft has been a huge hit with our son and many of his friends. He got into it a couple of years ago and it remains one of his favorites. He plays it on the Xbox One,
Dell PC, and
Samsung Galaxy Tablet.
2. Splatoon
For his birthday this year, our oldest announced that he wanted a Splatoon birthday party and the game for his birthday. At that point, I had never heard of the game and went searching for anything and everything I could find to learn about it. This game came out in May 2015 and only works on the Nintendo Wii U.
3. Meccano-Erector – Super Construction Set, 25 Models
Erector sets have been around for a long time. If your child likes to build, he/she will likely enjoy this set. As an added bonus, you can use the pieces to build several different things.
4. K'NEX Amazin' 8 Coaster Building Set
Knex is another great building set if you are looking to branch out from Legos. Our oldest has a couple of smaller sets and immediately added this one to his list this year when he saw it.
5. LEGO Jurassic World T. Rex Tracker 75918 Building Kit
Both of our boys love Legos! They received a couple of catalogs from Lego this year and between the two of them, have the catalogs pretty marked up.
Here are some of their favorite sets from past years: Lego City ice breaker ship 60062
, LEGO Creator 31039 Blue Power Jet Building Kit
, LEGO Creator Red, Creatures, LEGO Minecraft The Cave 21113 Playset
.

6. LEGO Technic Crawler Crane 42042
Our oldest has always loved cranes and was excited to add this Lego crane to his list this year. It features a motorized boom, winch, superstructure and caterpillar tracks. It also features an opening claw, tilting cab, extendable boom, extensive cabling and a realistic exhaust pipe and ventilation grid.
7. K'NEX 375 Piece Deluxe Building Set
We got this set for our oldest a couple years ago. It's a great starter Knex. It includes 30 building idea and lots of open ended building fun
8. Be Amazing Toys Big Bag Of Science
I thought if I got this set for our son, I might have some baking soda and vinegar left in the pantry. Kids can perform more than 70 experiments with this kit. This kit comes with plenty of tools and safe chemicals to get your young scientist started, including test tubes, a magnifying glass, gravity goo powder, Insta-Snow powder, and many other supplies necessary to perform the experiments.
9. Thames & Kosmos TK1 Telescope & Astronomy Kit Science Kit
Our family received a telescope a couple of year ago when our oldest started showing interest in studying the planets and solar system. The whole family enjoys pulling it out and looking at the stars, moon, and other other planets.
10. Meccano MeccaNoid G15 KS
Kids build, program and play with this fully-operational, 4-foot-tall robot, with life-like articulated limbs powered by 10 motors for realistic movement. This personal robot comes with over one thousand phrases and voice recognition to make your personal robot more like your best friend! Our son is hopefully that he can program it to do his chores for him 🙂
Here's a smaller version: Meccano MeccaNoid G15
.
11. Magformers Magnetic Building Construction Set
I have this item on my toddler/preschool guide as well. I think they are great for kids of all ages. This is the number one toy played with on a regular basis in our household by all three kids. They have several different sets that even include lights and motion. This particular set has 62 pieces total: 20 triangles, 22 squares, 14 isosceles triangles, 4 diamonds, 2 trapezoids.
12. Snap Circuits Jr. SC-100 Electronics Discovery Kit
Electrical components provide children with hands-on experience designing and building models of working electrical circuits. Build working models of a photo sensor, a flashing light, and an adjustable-volume siren. More than 100 exciting projects in all with included 30+ snap together parts.

13. 4M Crystal Growing Experiment
Our son got a crystal growing kit last year and had a lot of fun with it. This science kit contains all the materials needed to perform seven different crystal growth experiments.