I love cupcake liners both for baking and crafting. There are so many fun colors and patterns. I picked up some mini cupcake liners recently and had to find a project for them.

This post contains affiliate links. See my Disclosure Policy for details.
My kids have enjoyed helping me with the flowers this summer, so I decided to do a flower garden.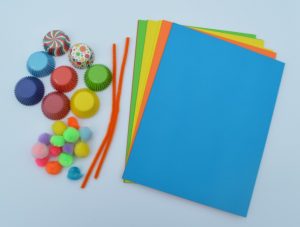 What you need to grow your cupcake liner flower garden
Cardstock-I used blue for the background and green for grass, stems, and leaves
Mini cupcake liners for flowers (any color)
Yellow mini cupcake liner for sun
Pom-pom-for center of flower
Mini cupcake liner and 2 in pipe cleaner for butterfly (see instructions below)
Make a mini cupcake liner butterfly:
Fold a 2 mini cupcake liner in half
Fold the liners into quarters
Fold the tip of one liner over; leave the other liner as is
Place the liner with the folded tip over the other liner and glue
Cut a 2 in. piece of piper cleaner, fold in half an attach with a glue dot
Flip over and you have butterfly
I just free handed the grass, stems and leaves, but after cutting pieces for all 3 kids, I was wishing for a template.
For the grass I cut a 1 1/2 in. piece off the bottom of a green sheet of cardstock. I then did a fringe cut to make it look like individual grass blades.
Instead of pom poms, you could use buttons for the center of the flowers.