All winter our daughter wanted to fill her kiddie pool with water and go swimming. She even put her swimming suit on a couple of times in hopes of convincing us. We held her off until it reached the high 70s. While she finds the kiddie pool fun still, the boys are not too impressed.
As the temperature gets warmer and our local pool is still not open, I've been looking for ways the kids can cool off. This sponge toss water activity has been a great way to keep all the kids active and cool until our pool opens.
This post contains affiliate links. See my Disclosure Policy for details.
It's a super inexpensive and easy activity to put together for the kids.
Supplies for Sponge Toss Water Activity
2 Big buckets (we used 5 gallon buckets)
Big sponge (like the kind you use to wash your vehicle)
Water
Willing participants
Playing Sponge Toss
1. Fill buckets with water (we filled our 5 gallon buckets about 2/3 of the way with water).
2. Place the two buckets in an open area so participants will be facing each other and close enough that they can toss and catch the sponges.
3. Dip sponge in the bucket of water and toss to person on opposite side. That person can dip the sponge in their water or just toss it back.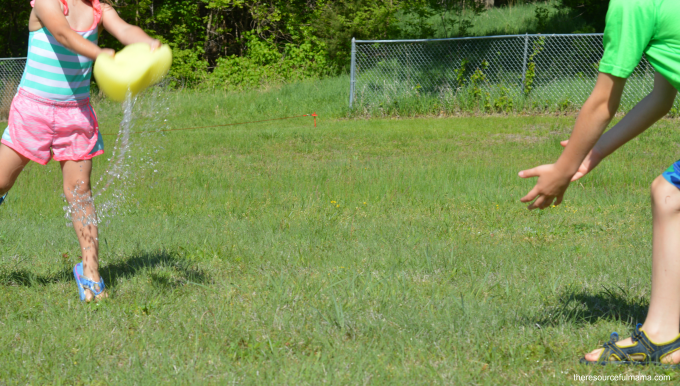 This water activity is a great way to cool off on a hot summer day. This one will definitely be on repeat this summer.
This sponge toss would also be fun as a group or family activity. Form teams and make it a competition. Which team can keep the sponge going the longest without dropping it.
You also might like: