This shop has been compensated by Collective Bias, Inc. and its advertiser. All opinions are mine alone. #StockedWithLove #CollectiveBias
I love putting stockings together. I did stockings for extended family members even before we had kids. The challenge of finding fun, unique, and useful items to put in stockings is something I love. Usually I grab stuff throughout the year and add it to my collection and then go crazy during the holiday season.
This year I found BAND-AID® Brand Adhesive Bandages holiday collection at Target.
and thought these would be prefect in the kids stockings. We go through a lot of BAND-AID® Brand Adhesive Bandages at our house. Every time the kids get so much as a bump they run to get a BAND-AID® Brand Adhesive Bandage. BAND-AID® Brand Adhesive Bandages do heal hurts faster and are the #1 Doctor recommended brand.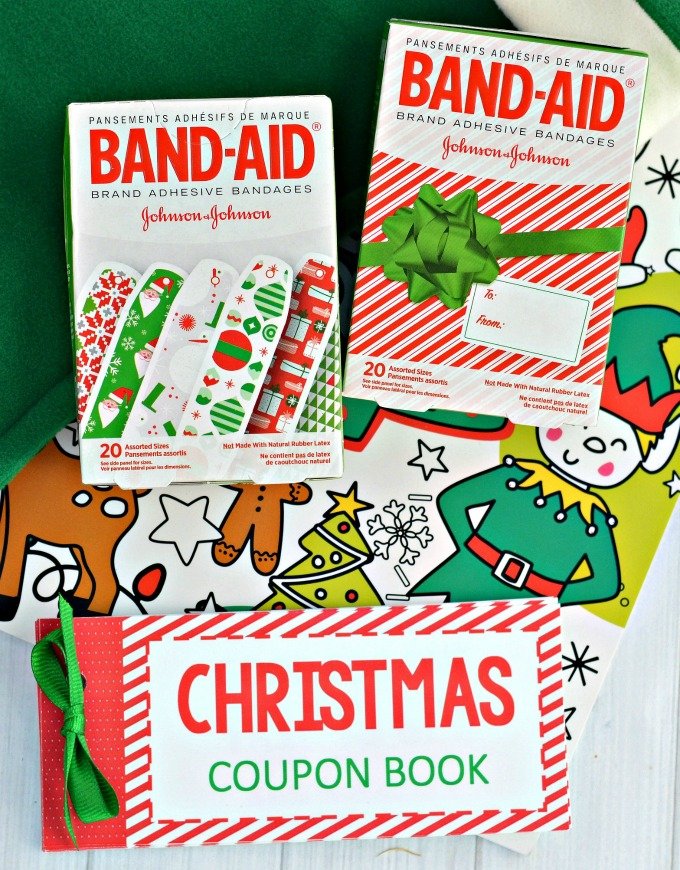 Hover over the image to purchase BAND-AID® Brand Adhesive Bandages at Target. They are 2 for $5.00 starting the week of 12/17/17.
The kids caught a peak of these Christmas Coupon Books that I will also be adding to their stocking this year and are anxiously awaiting to receive them.
Christmas Coupon Book
Last year I got busy and thought I had more than I actually did. Christmas Eve came and it was time to do stockings and I realized my stocking stuffer supply was really low. Luckily Grandma was staying with us and was able to help. I also hand wrote a few coupons and added them to the stockings.
The coupons were a hit with the kids, so I decided to put together an actual Christmas Coupon Book this year. The kids caught a peek of me working on this Christmas Coupon Book and are anxiously awaiting Christmas morning to find them in their stockings.
There are eleven coupons included in this Christmas Coupon Book in addition to the cover for the book. One of the coupons allows you to write in your idea.
The coupons in the Christmas Coupon Book are:
Dessert Before Dinner
Your Choose of Dinner
One on One Time With Mom
One on One Time With Dad
One Hour Extra Electronics
Trip to Get Ice Cream
One Movie Rental
Supplies
This post contains affiliate links. See the Disclosure Policy for details.
Directions
1. To get started, print the Christmas Coupon Book (find it at the bottom of this post) on 8 1/2×11 paper. I like to use glossy paper to make the color pop. You could also use cardstock. Four coupons will print per page.
2. Cut out the coupons. I find my paper cutter works great for projects like this.
3. Once all the coupons are cut out, put them together in the order you want. There is one that says Christmas Coupon Book for the front of your book. Make sure that one is on top; otherwise the rest can be in any order you wish.
4. I used a hole punch and put two holes into each coupon. You could also do one hole near the top left corner.
5. String a ribbon through the holes and tie a bow to secure them all and finish your Christmas coupon book.
Stocking Stuffers
I love Target's Dollar Spot and Stocking Stuffer area for finding fun and unique stocking stuffers. They have so many great items.
In addition to BAND-AID® Brand Adhesive Bandages holiday collection I found at Target this year, they are also have Paw Patrol and Star Wars BAND-AID® Brand Adhesive Bandages.
What Christmas stocking traditions do you have? What items do you like to add to your stockings every year?