I've got another Valentine's Day printable for you today. The Heart Do a Dot Worksheet I posted a couple of days ago is for younger kids. This Valentine's Day Word Puzzle is for the older kids. My kindergartner thinks he can do both (with help on this one he can.)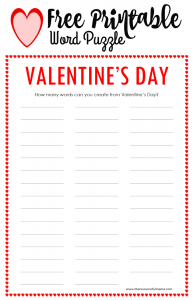 This word puzzle would be perfect for Valentine's Day classroom parties. Do a timed challenged and see how many words they can come up with in the allocated amount of time.
This post contains affiliate links. See my Disclosure Policy for details.
Words puzzles can be used in many ways:
Competition
Timed challenge
Learning activity
Just for fun.
Word puzzles can be used in groups, in pairs or individually. They are great and enjoyable for both kids and adults. My husband and I like to get competitive and see who can come up with the most words.
There are many words that can be formed from Valentine's Day. See if you can fill up more than one sheet.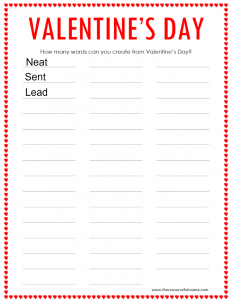 The kids will love this puzzle, especially if they are competitive. The best part is, they won't realize that the puzzle has several benefits.
Word puzzles have great benefits for kids:
Help with spelling
Expand vocabulary
Improve memory
Encourage problem solving
Print here: Valentine's Day Word Puzzle
I created a football word puzzle as well that would be perfect for your Super Bowl activities. You can print it at About a Mom.