Butterflies are my favorite. I had a butterfly garden at our first house and when our daughter was born, I decorated her room with butterflies. Princesses have seen taken over with a just hint of butterflies left.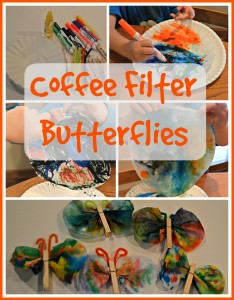 This post contains affiliate links. See my Disclosure Policy for details.
This coffee filter butterfly craft was a fun family craft. We each made a butterfly. I love how they are each unique.
Supplies:
Markers
Coffee filters
Spray bottle with water
Clothespins
Pipe cleaners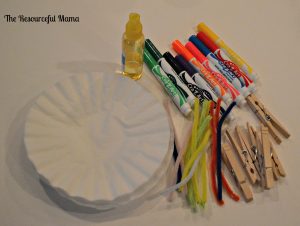 Directions:
Ages: Preschool and older (I did these with my son's preschool class last year and they were a huge hit.)
1. Use markers to color the coffee filter. Color the entire filter with lots of different markers for a colorful butterfly or try a pattern like dots.
3. Spray coffee filter with water and let dry. If you need it dried quickly, use a blow dryer.

4. Once dry, scrunch the coffee filter by starting in the middle and pulling from ends. Clip with a clothespin and spread out wings. Cut pipe cleaner in half, form in shape of antennae, and insert into clothespin.
You might also like: