Every year our little town becomes turtle crazy as all the kids search high and low for a turtle, so they can compete in our annual turtle races. I don't know if you need to be born here or maybe they teach turtle catching in school, but everyone except me seems to be able to find turtles. I always have to call in reinforcements to get turtles for the kids.
This paper plate turtle is not going to win any races, but it was much easier to come by.
This post contains affiliate links. See my Disclosure Policy for details.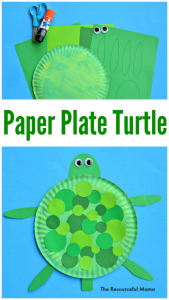 The circles are the star of this turtle. We used my circle craft punches to make the circles. The kids love my craft punches, but I get stingy with them. I don't like normally like to share, but I made an exception with this project. They are really good for strengthening their hand muscles.
Supplies for Paper Plate Turtle:
Note: These craft punches are a great investment. I use them all the time. You could also find something in your house or classroom to use a template for the circles.
Directions for Paper Plate Turtle:
1. Paint paper plate with green paint. We did 2 coats of paint letting it dry between coats.
2. Use craft punches to cut out various sizes and shades of green circles from the cardstock.
3. Glue green circles to paper plate.
4. Print tail, legs, and head template on green card stock and cut out.
5. Glue tail, legs, and head to back of paper plate.
6. Glue 2 googly eyes to head of turtle.
Extend the Activity:
Discuss the shape and color used for this project.
Work on comparative words with the circles.
Talk about the life cycle a turtle.
Read a turtle book.
You might also like: