I am back today for our weekly meal plan. Sorry I am late posting again this week. I did our meal plan yesterday and completed my grocery shopping, but did not get an opportunity to post it.
This post contains affiliate links. See my Disclosure Policy for details.
I normally just meal plan for dinner, but throughout the summer I have been also jotting down some ideas our weekday lunches. This week the kids are having pizza quesadillas, chicken nuggets, mini corn dogs, salami/crackers,/cheese, and ham. They also have fresh fruit and vegetables, yogurt or string cheese, crackers or nuts with their lunches. We've also do PB&J, grilled cheese, lunch meat, hard boiled eggs, and chicken quesadillas.
Here's what we are having for dinner this week.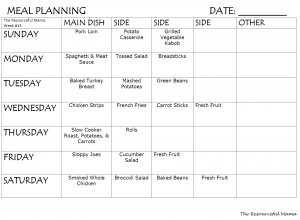 You can find past weeks by clicking here: Meal Plan.
What do your kids eat for the lunch in the summer?
Linking up with org junkie.