This post contains affiliate links. See my Disclosure Policy for details.
Today I am sharing the Disneyland California guide I put together for a recent trip.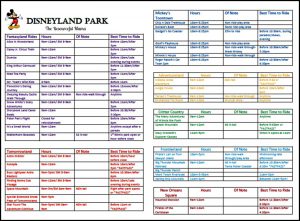 We made our third trip to a Disney park as a family on Memorial Day weekend. We visited Disneyland in California for the second time with the kids' grandparents.
The first time we visited, I had just had a baby and was in survival mode and did no planning. This second time around, I had a little more time to do some planning, but did not want to go overboard since we were vacationing with others.
I did not go as crazy as I did a few years back when we visited Walt Disney World when I had every detail planned. I wanted to have notes on the best times to ride the attractions, whether an attraction is FASTPASS, height requirements, where in the park the attractions are located, hours, attractions open for early morning hours, and best times to ride attractions.
I put together a guide for both California Disney parks that includes all that information. This was so helpful in planning our days and navigating the parks; especially since we visited on Memorial Day weekend during their Diamond celebration.
Sources used to put this guide together were: Disneyland and Disneyland Touring Plans.
*Please note that this information was valid for May 23-26, 2015 and may vary slightly at different times of year.
Prior to the trip, I searched for a current map, but had difficulty finding a current one. Here are pictures of our maps.