We loved Little Debbie snacks growing up. Grandma always bought the Oatmeal Pies, Swiss Rolls, and Nutty Bars for us as treats. It was not until I meet my husband that I realized they had Fancy Cakes. He still likes them, so when they come out with the holiday ones, I usually grab him a box.
As I was grabbing the heart cakes for Valentine's Day this year, it hit me what a super cute and easy Valentin's Day treat they would make for Valentine's Day parties.

This post contains affiliate links. See my Disclosure Policy for details.
I love adding little touches to make store bought treats special. Lets face it, sometimes there just isn't time for homemade treats from scratch. A lot of schools are moving away from homemade items, so these would be perfect.
Supplies:
Little Debbie Red Velvet Heart Cakes
Paper Straws
Plastic wrap
Directions:
Makes 20 treats per box.
1. The Little Debbie Cakes come 2 to a package. Open the package and remove the cakes.
2. Cut about a 1/3 off the paper straw and save for another project. Insert the rest of the paper straw into the bottom of each heart cake.
3. Cut a piece of plastic wrap and lay on a flat surface. Place the heart cake on the center of the plastic wrap and fold over the top.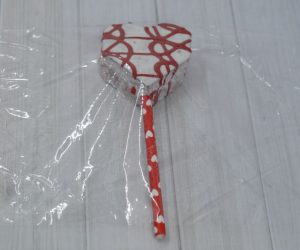 4. Pull the sides of the plastic wrap in, bunching the plastic wrap at the bottom of the heart so it wraps around the paper straw.
5. Trim off the excess plastic wrap.
6. Tie a piece of ribbon around the straw at the bottom of the cupcake making a bow.
Little Debbie also makes a pink heart that would work with a change in straw and ribbon color.
You also might like