I finally did it! I have been saying for awhile that I wanted to do a monthly meal plan. I did not keep up with meal planning very well during the holidays, but normally I do a weekly meal plan. You can view those here.
We really missed our meal plans during the holidays; the kids more than anyone. They just don't buy the concept of cereal and popcorn for dinner.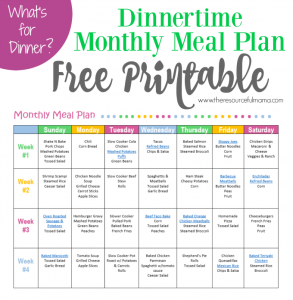 This post contains affiliate links. See my Disclosure Policy for details.
Sitting down once a week often does not fit in our schedule and honestly does not appeal to me. I thought it would be much for efficient for me to sit down once a month with my favorite recipes, cookbooks and Pinterest and write out a plan.
I already do a big once monthly shopping trip with weekly trips for bread, milk, and whatever else we may need like fresh fruits and vegetables. I stock up on stuff, especially meats, when they are on sale, so there really is not a need to meal plan around sales.
I have included clickable links in the printable for those recipes, which can be found online. Please feel free to comment or contact with me with questions about any other recipes.
There are only 28 days on this meal plan and every month, but February has 2-3 more days. I am counting on leftovers and/or eating out a couple times this month…mom needs a couple nights off 🙂
Print here >>>Monthly Meal Plan
Be sure to follow our Pinterest Meal Planning board
Do you meal plan? If so, do you plan weekly or monthly?
You also might like:
How to Survive When You Didn't Get the Meal Plan Done
Simple Steps to Fake a Clean Home