You bought your tickets and made hotel and transportation arrangements. All that's left is packing your bags for a fun filled Disney vacation.
Disney vacations are fun, but not cheap. You've dropped a bundle on this trip already and haven't even left your house.
Chances are you want to get the most bang for your buck. You want to ride the iconic Dumbo ride, pose with Mickey, or get wet as you drop down Splash Mountain.
This post contains affiliate links. See my Disclosure Policy for details.
You could show up at Disney, grab a map and schedule and spend half your vacation trying to figure what direction to head.
Disney is huge! Each location has different parks. You could easily spend two days enjoying all their attractions. If you are at Walt Disney World, that's four parks, two days each. Are you following me on the math? That's eight days! That does not include Downtown Disney and the waterparks.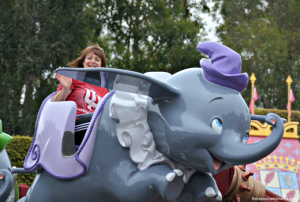 Even if you are a fly by the seat of your pants person, you need to plan for a Disney vacation. You may not need a detailed table like I made for out last Disneyland vacation, but you need a framework. You need a plan.
Plan for a Successful Fun Filled Disney Vacation
Layout
You want to get a feel for the layout of the Disney location you are visiting in general and where the parks are in relation to your resort, hotel, or the parking lot. If you are staying on site you want to determine how you will be getting to and from the park each day. This varies greatly by Disney location and resort.
You also want to get a feel for the layout of each park. There are different lands within each park. Each land has there own theme and attractions.
Attractions
Study the attractions each park has to offer.
Make a list of your must do attractions.
Determine when the best times for riding those attractions. Things to consider: do they offer Fast Pass and are they open for extended hours.
Map out your must do attractions and group ones that are within close proximity. You don't want to be running across the park all day to catch rides. Try to group nearby ones together.
Family Needs
Is your family flexible with schedules? Do early mornings work best for you or late nights or maybe a combination? Do you have kids that need to return to the hotel for naps?
These questions all will affect how you approach your planning. If you have extended hours as part of your tickets, then you will likely be able to start your mornings early and catch some the popular attractions before they get too crowded. Maybe you want to see the nighttime shows and need to factor in the late nights in your planning.