I have a confession to make. I'm not Peeps a lover and nor are my kids. They love marshmallows, so I don't quite get it. Maybe that's why we still end up with Peeps from someone every year for Easter. Since there will not be any eating of Peeps at our house, we turn them into a Peeps Candy Science Experiment.
This Peeps Candy Science Experiment is an activity that can be done quickly without a prep or expense.
Supplies
This post contains affiliate links. See my Disclosure Policy for details.
Peeps
Microwavable plate
Microwave
We tested both Peeps marshmallow chicks and Peeps marshmallow bunnies.
Directions
As always use adult supervision when conducting experiments. Use cation when using the microwave. Items heated in the microwave may be hot.
I am a mom for enjoys doing fun hands on activity with my kids. I not an expert. I am not a scientist or science teacher.
1. To get started on your Peeps Candy Science Experiment, place peeps on a microwavable plate. Ask the kids to make observations, so that they will be able to make comparisons later.
2. Place the plate of peeps in the microwave and microwave for one minute. Encourage the kids to watch, if possible, as you microwave the Peeps. They should start to see the Peeps puff up after about 20 seconds.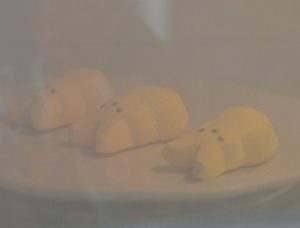 Observing Peeps while microwaving.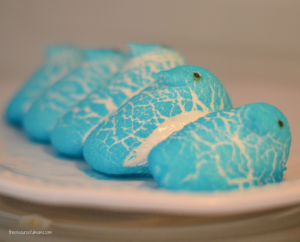 Peeps after microwaving once we opened the microwave door.
3. Remove the Peeps from the microwave and make your observations. Note that the Peeps will begin to deflate/lose their puffiness fairly quickly.
Our kids described the microwaved Peeps as bigger, softer, and stickier immediately after microwaving. We observed that the Peeps eventually shrinked back down, became harder, and appeared deflated looking.
We used the same Peeps to conduct the experiment a couple of times. We found that after microwaving the same Peeps for more than two minutes, they started turning brown.
The Science
Peeps are marshmallow candy mostly made up of sugar and water surrounded by air pockets. As they are microwaved, the water in the Peeps heats up, softens the sugar and warms the air molecule, causing them to push against the soften sides and puff up the Peeps.
You Also Might Like