We have a child who loves puzzles, loves worksheets, and loves holidays. We had one happy child when we combined the three for the upcoming St. Patrick's Day holiday. These five St. Patrick's Day Word Puzzles are a fun way to help kids learn about some of the customs and themes of the holiday.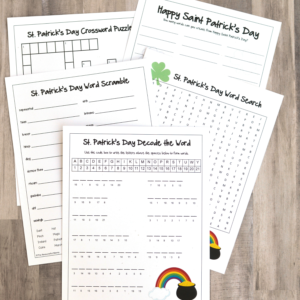 I love word puzzles, because they reinforce and build on many skills including: spelling, vocabulary, and problem solving. As an added bonus, holiday themed word puzzles can start a discussion on the specific holiday. For example, our boys asked what corned beef and cabbage was all about. It offered us an opportunity to teach them a little more about the holiday, We were able to go beyond wearing green so you don't get pinched and devising plans to catch leprechauns, who are sneaking around gathering gold.
Getting Started
This post contains affiliate links. See my Disclosure Policy for details.
This printable pack of St. Patrick's Day puzzles includes: a crossword puzzle, a word search, a word scramble, a decode the word, and a make a word puzzle.
Download and print these spring do a dot worksheets on regular 8 1/2 x 11″ paper.
Download: ST. PATRICK's DAY WORD PUZZLES
YOU ALSO MIGHT LIKE