We've been having a lot of fun with yarn lately and wanted to incorporate into a St. Patrick's Day craft, so we made this Leprechaun craft using yarn for the beard.
I don't remember doing much if anything for St. Patrick's Day growing up, but my kids love it and I'm always up for a fun craft.
This post contains affiliate links. See my Disclosure Policy for details.
Supplies:
Cost: under $10 (This price how much it would cost to buy every item for this project. You will use very little of each item and have lots of supplies leftover for more projects)
Paper plate
Orange Yarn
Green, black, yellow paper
Glue
Scissors
Black marker
Googly eyes
Directions:
1. Paint a paper plate a very light colored brown paint and allow to dry.
2. Cut small pieces of yarn, scrunch them up, and glue to the outer rim of the paper plate. Cover 3/4 of the outer rim with yarn for the leprechaun's beard.
3. Print the hat template and use it to cut the hat from green paper, the band of hat from black and the buckle from yellow. Glue the pieces together and glue to the paper plate.
4. Glue google eyes on the plate and draw smile and nose with the black marker.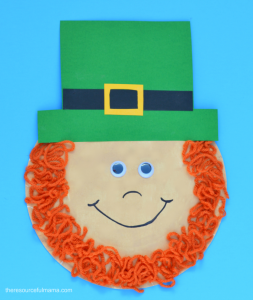 You also might like: