We love doing all sorts of craft projects, but sometimes you need one that requires the basics: paper, glue, scissors. This St. Patrick's Day Shamrock Man fits the bill.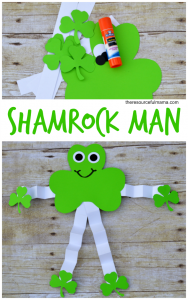 It's an easy, fun, and super inexpensive craft kids can make for St. Patrick's Day.
---
This post contains affiliate links. See my Disclosure Policy for details.
Supplies:
Cost: under $5
White paper
Green paper
Black marker
Scissors
Glue
Googly eyes (optional)
Directions:
Age: Preschool (with assistance) and older
The little shamrocks are too hard for young kids to cut, but the large shamrock provides good scissor cutting practice.
1. Print large and small shamrocks onto green paper and cut out (cut stem off large shamrock). You need one large shamrock and four small shamrocks.
2. Cut 4 strips of white paper and fold accordion style. These will be the arms of the legs of the Shamrock man. We made the arms slightly shorter than the legs.
3. Glue the arms and legs to the large shamrock.
4. Glue the four small shamrocks to the end of the arms and legs of the Shamrock man.
5. Using a black marker (or crayon) draw a mouth onto the Shamrock man. For the eyes we cut out 2 white circles and two smaller black circles and glued them together and then onto the Shamrock man. You could also use googly eyes.
Note: We used a couple of my favorite craft items to make the eyes: Circle Craft Punch (1-Inch)
& Circle Craft Punch (0.50-Inch).
---
You also might like: