One of my absolute favorite things about spring is planting flowers. Luckily my kids love it too or maybe it's the digging in the dirt they love. Since it's not time to plant flowers yet, I convinced our daughter to make a flower craft. She agreed on one condition: that we make a purple flower.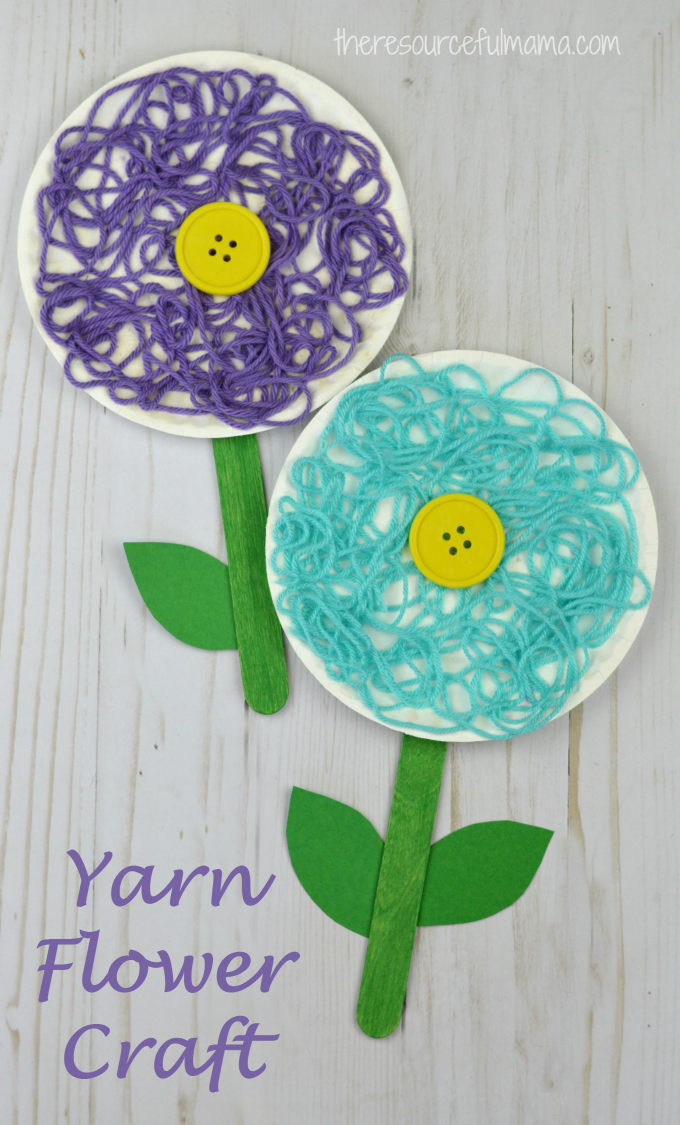 We had a lot of fun making painted paper plate flowers last year and decided to build off that design again this year. We decided to go with yarn to add texture and dimension to our flower craft this year.
Supplies
This post contains affiliate links. See my Disclosure Policy for details.
Paper plates (We used the smaller dessert sized paper plates.)
Yarn
Buttons or pom poms
Craft sticks
Green paper
Green paint
Glue (Wed used a glue stick and white school glue.)
Scissors
Directions
1. Paint your craft sticks green and sit aside, allowing to dry.
2. Cut a long piece of yarn. We cut two really long pieces of yarn to make our flowers. You could also cut a lot of smaller pieces.
3. Apply glue to the paper plate using a glue stick.
4. Begin adding the yarn to the paper plate working around the plate to make a flower.
5.Using white school glue, glue a button or a pom pom to the center of the plate.
4. Cut out two green leaves from green paper per flower and glue to the craft sticks.
5. Glue a craft stick to the back of the paper. If using white school glue for this , allow it to sit while the glue dries and the craft stick adheres to the plate.
SHARE YOURS WITH US
We love hearing and seeing how much you are enjoying our crafts and activities, tag us in your photos on Instagram, Twitter, and Facebook.
You Also Might Like