A family tradition that has been carried over from our childhoods is carving pumpkins each year at Halloween. It's a little early for us to carve pumpkins yet this year and make jack a lanterns, but that does not stop us from creating cute jack a lantern crafts.

This post contains affiliate links. See my Disclosure Policy for details.
Do you remember that puffy paint bat we did a couple of weeks ago? We used the same process for this puffy paint jack a lantern kid craft.
Supplies:
Shaving cream
School glue
Orange paint or food coloring
Sponge paint brush
Plastic lid
Black foam paper
Directions:
1. Make puffy paint by mixing equal parts shaving cream and glue. Mix in orange paint or food coloring until reaches the desired color.
2. Use paint brush and dad/glob paint onto plastic lid applying it thickly.
3. Cut jack a lantern face from black foam paper and apply to lid right away.
Note: It will take several hours to dry completely. We let ours dry overnight.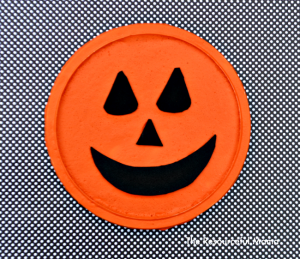 You might also like this Streamers Jack a Lantern.