Our kids love the sandbox. They love to flood it with water, drag every toy they own out there (they got busted trying to sneak their monster trucks out a couple days ago), and dig holes and tunnels. They have a good time with it when the weather permits.
I like to have some sandbox alternatives for them, especially when the weather is too cold to play outside or we need a sand free day.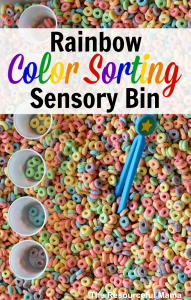 This post contains affiliate links. See my Disclosure Policy for details.
I recently picked up a huge bag of cereal at Walmart for just under $5, dumped it in one of our under the bed storage containers and let them loose. I grabbed a couple of shovels and a small truck from my secret stash (yes I have a secret stash, so they don't end up in the sandbox) and put them in the cereal.
While the boys were at school, I set up a color sorting activity with my preschooler. It was super easy to set up. I lined up six cups, one for each color of the rainbow. I gave her an Easy-Grip Safety Tweezer and instruct her to sort the cereal into the cups by color. You could definitely do this without the tweezers and just let your child use their fingers to sort. For really young children, it's great practice using their pincer grip (thumb and forefinger).
The color sorting part of this activity was a really easy activity for my four year old preschooler. All kids develop differently and have different abilities, but the color sorting is best suited for 2-3 year olds.
The kids have played with this every day since I set it up. I just put the lid back on it for storage at night. I did notice our cereal level decreasing. I think there has been so snacking going on while they play.
You also might like: