This post contains affiliate links. See my Disclosure Policy for details.
Kindergarten is a huge milestone in your child's life (and yours). Whether they have been at home, attending preschool, or at daycare, it's a big transition.
There will be a lot of new experiences and learning.
We want our little ones to have a smooth, successful transition.
There are a few things that you can do know to prepare your child for the Transition to Kindergarten.
One of those is reviewing kindergarten readiness skills. You can read about other ways here.
This Ready for Kindergarten Bingo is a great tool to help you work on some of those skills your child will need before starting kindergarten or while in kindergarten.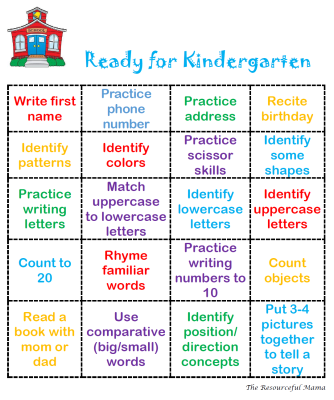 This Ready for Kindergarten Bingo printable is a great tool to use as you review skills your child will need before starting kindergarten. We used this bingo card as we were preparing to transition our middle child to kindergarten. He aced some of the skills, but others he needed a lot more work.
Your child will have so much fun filling out their sheet, they won't even realize they are doing work. We put stickers on ours to mark the completed tasks. Once the sheet is filled, we offer a small reward. If your child is a go-getter, complete a new sheet each week. Like to take things slow, you will find similar tasks on each row; complete a row each week. Like to mix things up, do a column each week for variety.
Thank you to Crafty Mama in Me for helping to translate this to Spanish!
So you have this bingo sheet, now what?
I have links to worksheets for all the areas covered on your bingo sheet. These are all free and printable. Some may require, you to register as a user or subscriber first, but many allow you to download and print without anything in return.
Many of these sites offer loads of worksheets, so if you have time, be sure to do a little exploring and see what else you can find.
Name/Phone Number/Address/Birthday:
Rhyming
Letters
Numbers/Counting
Colors/Shapes
Patterns
Comparative Words
Cutting
Picture Puzzle
Position/Direction
You also might like: