Our kids love, love, love scavenger hunts. They always ask for one when we are darting out the door on our way to an activity or when I have a gazillion things happening. I made a few summer scavenger hunts to have on hand and get us through the summer, so I'm prepared for those unexpected requests.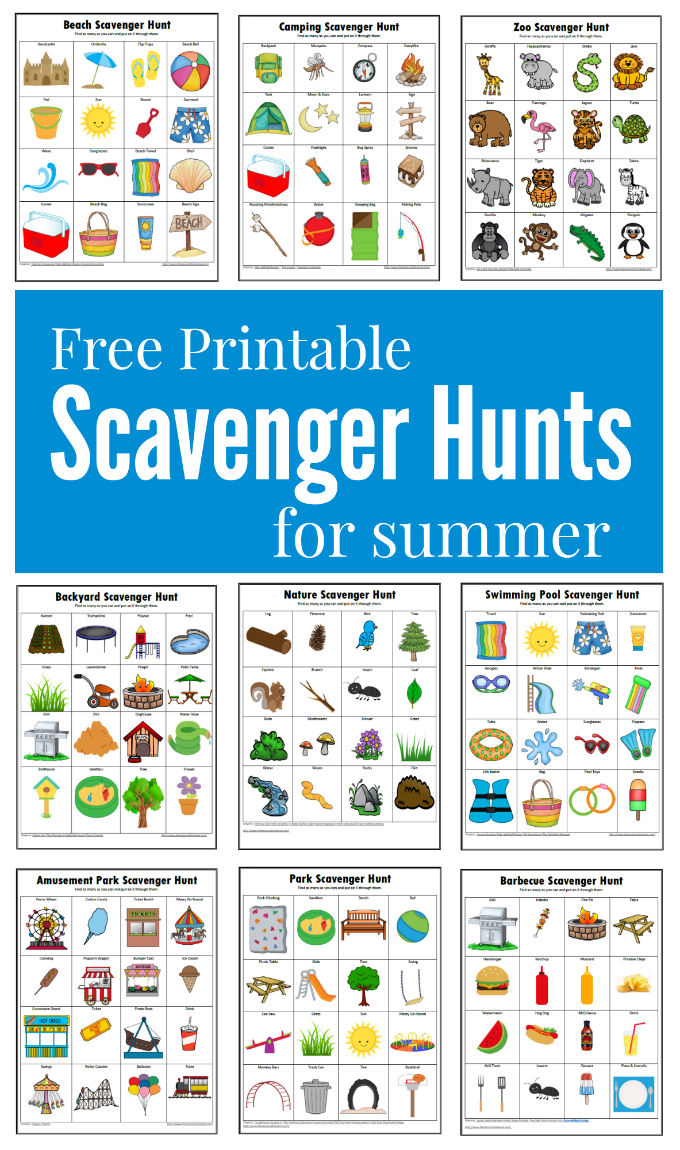 All of these scavenger hunts are available for you to download and print. Please review our printable policy before printing. Click on the name of the scavenger hunt to download and print.
This post contains affiliate links. See my Disclosure Policy for details.
Summer Themed Scavenger Hunts
We don't make it to the beach very often, but when we do the kids will love this Beach Scavenger Hunt.
This Camping Scavenger Hunt will be great for those down times at camp when the kids are complaining of boredom.
We have a zoo membership and visit the zoo year round. The kids love doing Zoo Scavenger Hunts. You can find more zoo scavenger hunts here.
This Backyard Scavenger Hunt is one they can do independently right in our backyard.
We take a lot of nature hikes and the kids love pointing out all the stuff they see on the way. We will be sure to take this Nature Scavenger Hunt on our next hike, so the kids can mark off their finds.
The swimming pool is the kids' favorite summer time activity. Our church hosts swimming parties in the summer, this Swimming Pool Scavenger Hunt will be a fun activity for the pool parties.
Whether you are visiting your local carnival, county/state fair, or amusement park, this Amusement Park Scavenger Hunt will add a bit of fun to your outing.
We frequent the park spring, summer and fall. This Park Scavenger Hunt will add a fun activity to our park visits.
This Barbecue Scavenger Hunt is fun activity to keep the kids busy while they wait for the food to cook.
Are parades part of your summertime activities? Check out this Parade Scavenger HSunt from Crafty Mama in Me.
Will you be boating this summer? This Boating Scavenger Hunt is a fun hands on activity to teach the kids about the parts of the boat and boating safety.
This School Supply Scavenger Hunt is a fun end of summer scavenger hunt that will get the kids excited about going back to school and keep them engaged while shopping for school supplies.
You also might like these Fall Scavenger Hunts.
Final thoughts…
You could laminate these scavenger hunts and use them over and over this summer.
You could always save the scavenger hunt and do it when you get home as way to test their memory.
Do your kids enjoy scavenger hunts? Which one is your favorite?