As summer draws near our kids begin to look forward to our time at the lake with excitement and eager anticipation. Every summer we spend two weeks at the lake where my husband spent his childhood summers. It's a fun and exciting time for all.
The kids are finally getting old enough that we can really enjoy the boat and water activities like skiing, tubing, and fishing. We love to water ski and were super excited when our oldest started water skiing last summer.
This post contains affiliate links. See my Disclosure Policy for details.
All three kids share Grandpa's love of fishing (especially when they catch fish).
Grandpa agreed to take all three kids out on the pontoon boat fishing last summer, as long as Daddy tagged along. Our oldest child had gone out fishing with Grandpa a few times and the youngest two felt like they were missing out. Little did Grandpa know what he was agreeing too.
They did fine driving out to the fishing spot and anchoring the boat. They even enjoyed a few minutes of uneventful fishing until a shoe went overboard and then a fishing pole overboard. They stuck with it for awhile and even caught a few fish before giving up when two fishing lines became tangled.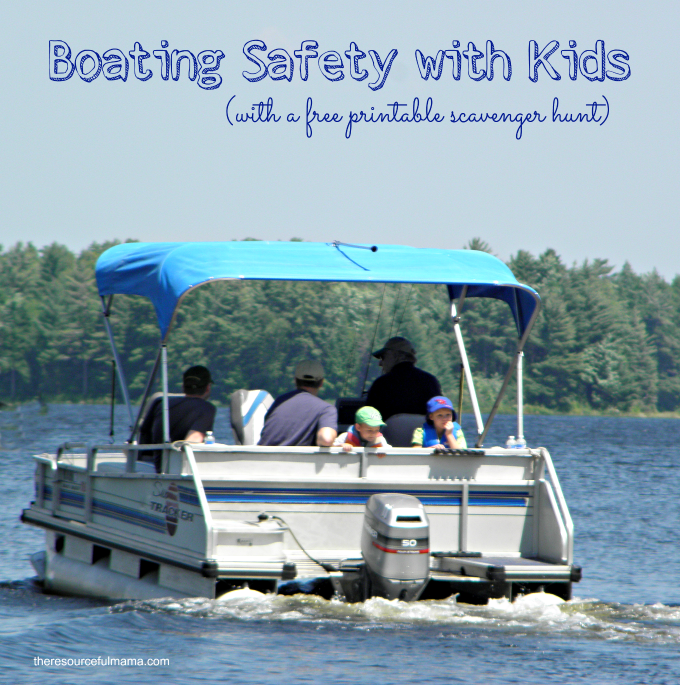 The kids have been riding in boats since they were babies and know what the expectations are, but Grandpa always gives them (and us) a quick reminder each summer as we start our lake vacation.
Laws vary slightly from state to state but this is a good basis to start from when boating with kids.
Boating Safety with Kids
1 Life jackets are a must. All children should wear a properly fitting life jacket approved by the U.S. Coast Guard while on boats, around open bodies of water or when participating in water sports. Water wings and other swimming aids should not be used in place of a U.S. Coast Guard approved life jacket.
2. Set some basic rules: keep hands and feet in the boat at all time and no running on the boat. Stay away from the motor and propeller.
3. Childproof your boat. Don't leave keys in the ignition when the boat is unattended. Don't leave sharp objects (fishing lures) and exposed wires out.
4. Don't leave kids unattended in and around boats.
5. Set a good example. You need to practice safe boating procedures. Kids follow your example.
6. Consider enrolling older kids in a boating course. My husband took a boating course as a tween and was then able to help out with more of the boating tasks. They will learn the basics of boat operation and safety. Many states require powerboat operators to take a boating course and carry a license or certificate.
Boating Scavenger Hunt
This boating scavenger hunt is a fun hands on way for kids to learn about the parts of a boat and things associated with boating.
With just a few safety rules and procedures, boating can be a great way to spend time together as a family in the summer.
We would love to hear your favorite boating memories and boating plans for this summer.
Be sure to check out Discover Boating to help you get in the water this summer and make your boating experience a memorable one.
Discover Boating is a national, nonprofit program on behalf of the US recreational boating industry aimed to help people get on the water to experience the fun of boating. For those looking to get their feet wet, Discover Boating is an unbiased online resource packed with easy, interactive features on all things boating, including a boat selector tool, get on the water tab where you can find rentals, classes and charters, cost comparison tool, renting options, youth boating programs, education courses – even nautical lingo and how-to videos.
You also might like: