I'm sharing an Alphabet Scavenger Hunt today. My kids love scavenger hunts! They ask to do scavenger hunts all the time, especially in the winter months. They get tired of being stuck inside and are looking for fun indoor activities.
I often find myself scrambling to throw something together for them quickly. I have a Nature Scavenger Hunt, Zoo Scavenger Hunt, and St. Patrick's Day Scavenger Hunt made up, but needed some that could be used anytime.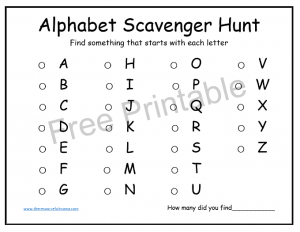 This post contains affiliate links. See my Disclosure Policy for details.
My kindergartner has been soaking up everything he is learning this year and challenging me to find stuff that he does not deem too easy. He has mastered all his beginning sounds, but I thought this scavenger hunt would still be fun and pose a challenge.
For this Alphabet Scavenger Hunt, kids need to find something that starts with each letter of the alphabet. As they find the item, they fill in the circle next to the letter. At the end they count up how many they found.
This is not just for kindergartners. Challenge older kids to find something in the house that starts with each letter; I bet they are going to find a few letters a challenge. This could be turned into a competition, if you have kids of similar abilities. See who can find the most letters.
Laminate your scavenger hunt and use Dry Erase Markers
to use it over rand over.
Keep kids busy all winter long with these great indoor activities.