Today September 9th marks National Teddy Bear Day. I am not sure how widely celebrated this day is, but we are always up for an excuse to do a fun craft.
Our kids have all had their share of stuffed animals, but not one of them has been particularly drawn to teddy bears. We have had a stuffed monkey, spider, dog, and a slew of popular characters. There is one famous bear that they have all loved.
Today's Winnie the Pooh craft was inspired by another famous bear craft: Paper Plate Corduroy.
Supplies:
Regular size paper plate
Dessert size paper plate
Yellow & red paint
Yellow cardstock (that matches the yellow paint)
Black pom pom
Black cardstock or construction paper
Black marker
Glue
Directions:
Paint both the small and large paper plates yellow and let dry.
Once yellow paint is dried, paint 1/2- 2/3 of large plate red.
Glue small paper plate to top of larger paper plate with red on top of large paper plate.
Cut out ears, legs, and arms from yellow paper and attach.
Cut out 2 black circles for eyes and attach to the small paper plate. Attach a black pom pom for nose and draw eyebrows and a mouth with a black marker.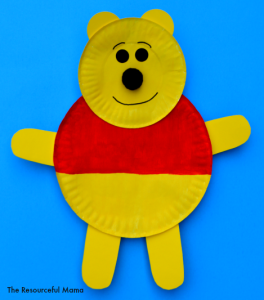 Do your children have a favorite teddy bear?